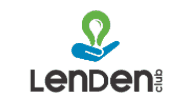 LenDen Club, an Indian online peer-to-peer lending platform, has raised undisclosed seed round of funding through Venture Catalyst, India's first seed investment and innovation platform. The round saw participation from Anirudh Damani, Daud Ali, Narendra Karnavat, Vikas Kapoor, Vikram Lakhotia, Krishna Jhunjhunwaala and Jayesh Shah, according to a release. Funding will be used toward strengthening the platform's technology and increasing its user reach.
LenDen was founded in 2014 by Bhavin Patel and Dipesh Karki. At LenDen Club, the bank depositor directly becomes lender to borrowers. Transaction take place without any bank interventions which removes large institutions like banks from the equation, saving money for the borrower and increasing earnings for the lender.
"We wanted to bring traditional lending on digital platform. Securing seed funding at such a nascent stage gives us the boost we have been looking for," commented LenDen CEO Patel. "This will allow us to further improve the platform and reach out to more users."
The platform evaluates each borrower on multiple parameters which include screening of personal, financial and professional details to name a few, noted the release. Verified creditworthy borrowers are listed on the platform. The lenders are free to choose borrowers based on their risk appetite. Ideally, multiple investors (lenders) invest a small portion in every borrower. To date, the platform has 725 lenders and 1,120 borrowers  and claims to have borrowing average of Rs 95,000. Around 1-3% commission is charged for any transaction and the lender can choose interest rate from 12.5% to 30%.