On Monday, CrowdfundBeat announced it will be hosting the annual Crowdfunding USA Conference at Washington D.C.'s National Press Club on May 5th-6th. According to the website, the event will bring together thought-leaders, practitioners, and pundits, discussing some of the new chapters in the Crowdfunding playbook, such as Regulation A+ and the implementation of Title III of the JOBS Act, namely crowdfund investing for non-accredited investors.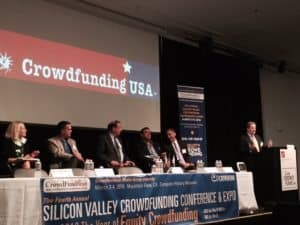 The conference will also host an impressive group of speakers and panelists, to assess, debate, and prognosticate the elements of the market and its practices. The roster of speakers are:
David Rose: Founder of GUST, one of the leading global angel-startup intermediary platforms
Douglas Ellenoff: The preeminent attorney within the industry (Ellenoff Grossman & Schole LLP)
Dara Albright: An early voice in the crowdfunding movement now delightful provocateur on market structures and disciplines
Blaine McLaughlin: An executive with VIA Folio, the crowdfunding complement to FolioFN, a leader in the secondary trading in private securities
Joan Dromey: Who leads ComputerShare's effort in creating aftermarket support for the private securities market.
Topics will include the deployment and receptivity of Regulation A+, aka the mini-IPO, the anticipated boom (or bust) of Title III crowdfunding, the maturation of the real estate crowdfund syndication model, and of course, an open discussion of what will come next in this segment of financial technology.
CrowdfundBeat went on to add that the conference is sponsored by VIA Folio, Ellenoff Grossman & Schole LLP, CrowdEngine, ComputerShare, iDisclose, OTC Markets, CrowdKey, Allegiancy, Trowbridge Sidoti LLP, Flaster Greenberg, Manatt, Phelps & Phillips LLP, and Taylor | English, and REMARQ Corporation.