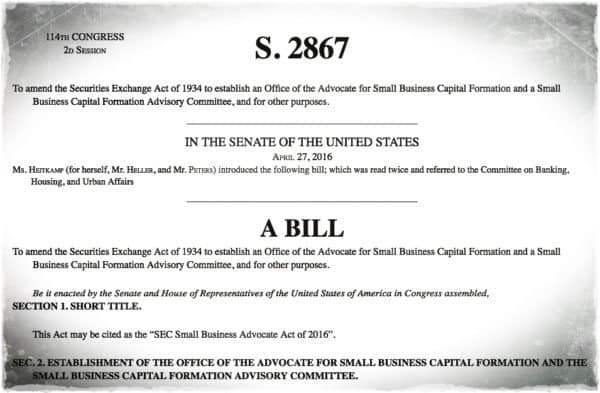 The bipartisan SEC Small Business Advocate Act of 2016 (HR 3784) sponsored by Representatives Duffy  (R-WI) and Carney (D-DE), cruised through the House of Representatives earlier this year.  The bill seeks to create a firmer voice advocating on behalf of small business within the Securities and Exchange Commission.  Created in the recognition that SMEs too frequently get lost in shuffle and that too many rules that are focused on big business trample upon smaller firms, the new position will stand up for the sector of the economy that creates the most jobs.

Now the bill (S.2867) has made its way to the Senate side of Congress. Three US Senators, Dean Heller (R-NV), Heidi Heitkamp (D-ND), and Gary Peters (D-MI), have signed up to sponsor and support the bill.
Senator Peters recently explained;
"As the engines of economic growth in Michigan and across the country, it is vital that small businesses have their voices heard in the federal rulemaking decisions that impact them. I'm pleased to join my colleagues to introduce this bipartisan legislation, which will improve communication between small businesses and federal regulators and strengthen the ability of small businesses to compete and succeed."
The legislation is an interesting topic of discussion at Crowdfund Insider as Senior Contributor Sam Guzik played an important role in promoting the legislative initiative. First writing about the need for SME representation at the rule-making table back in February of 2014, Guzik stated there was a "Missing Title of the JOBS Act – Small Business Advocate" (perhaps Title VIII?).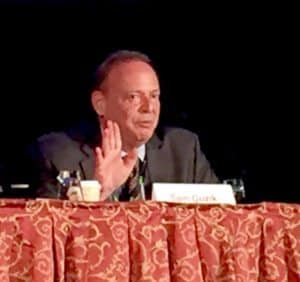 We recently asked Sam for a comment on the bill as it stands now;
"I applaud the efforts of Senators Heitcamp, Heller and Peters for introducing Senate Bill 2867, entitled "A bill to amend the Securities Exchange Act of 1934 to establish an Office of the Advocate for Small Business Capital Formation and a Small Business Capital Formation Advisory Committee, and for other purposes." The interests of small business need and deserve a single, strong and focused voice in Washington in the capital markets regulatory conversation, with a permanent presence at the SEC and a direct line of communication to both the Commissioners and Congress. As this Nation's largest single creator of both jobs and economic growth, in the words of Senator Heitcamp, "they deserve a seat at the table."

"Having due regard for the important tripartite mission of the SEC -protecting investors, maintaining orderly markets, and enabling SME's to raise the funding they need to start and grow –this new office will be a giant step forward in ensuring that this balance is maintained."
While time is running short before the Senate goes into recess, the fact that both sides of the aisle have signed up to support this bill bodes well for a forthcoming office of the Small Business Advocate.

Sponsored Links by DQ Promote