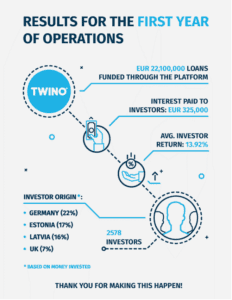 Latvia-based Twino is celebrating its one year anniversary.  After 12 months of operation, the peer to peer lending platform states it has originated over €22 million in loans.  Twino says their rapid growth makes them the "fastest growing platform in Europe.  Investors have earned approximately €325,000 in interest during the past year.
According to information provided by the company, Twino now has more than 2500 active investors from 29 different countries. The most active are as follows:
Germany – 22%
Estonia – 17%
Latvia – 16%
UK – 7%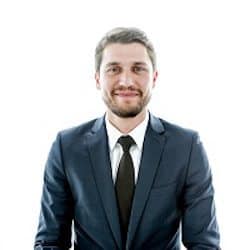 Jevgeņijs Kazaņins, CEO of TWINO, said they were satisfied with the results of year one. They also viewed the results as an affirmation of their strategy;
"…we have chosen the right strategy," said Kazanins. "Being aware of our competitive strength, namely a competitive rate of return for investors (average 13.92%) together with the BuyBack Guarantee, which eliminates the risk of investors in case a borrower default, we have the ambition to become one of the Top 3 European consumer peer-to-peer lending platforms by the end of this year."
To accomplish their ambitious growth objective, Twino expects to expand operations geographically and to start offering new loan products to investors. Twino stated it intends on doubling the employee count as well.  Today, Twino says it ranks as number 6th in Europe in P2P consumer lending.
"We believe that Latvia has a potential for becoming a FinTech hub for Continental Europe," stated Kazanines. "Latvia has human talent in the field of financial services with both required experience and education, as well as all necessary infrastructure and financial resources. We hope that Latvian government will follow the lead of the UK and will purposefully support the growing FinTech industry."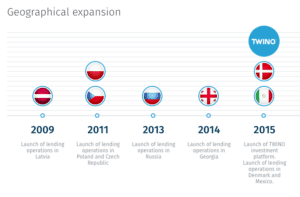 Twino was previously known as Finabay which launched in 2009 as an unsecured consumer loan provider that has originated approximately €240 million in loans.

Sponsored Links by DQ Promote