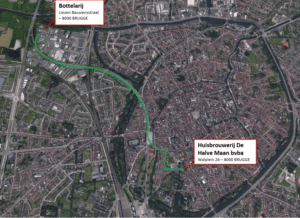 Perhaps one of the most interesting rewards campaigns of all time, the De Halve Maan Beer pipeline is nearing completion. The project was launched last year by the Belgian brewer as it recognized driving tanker trucks through the crowded streets of historic Bruges was a growing challenge both strategically and economically.  De Halve Maan brewery has a lineage that dates back to 1564.  The Maes family become owners of the operation in the 1800s and have kept things up and running.  In 2010, demand forced another facility to be opened outside of town and away from the historic center that has now become not just a working brewery but a tavern and tourist attraction.  Faced with the challenge of getting the beer from the center of town to a facility 3.2 kilometers away by the Brudge ring-road, the owners did the logical thing and crowdfunded a pipeline.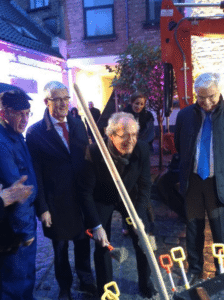 Now granted the crowdfunding covered only a portion of the cost. Approximately €300,000 was raised for a cost of around € 5 million.  But for everyone that pitched into the project you received some interesting perks.  The brewery broke out the tiers as follows:
Gold membership: costs € 7,500, for which you get one 33cl bottle of Brugse Zot Blond every day for the rest of your life, as well as 18 personalized glasses. You'll be invited as a VIP to the ground-breaking of the works, and the ceremony to inaugurate the pipeline;
Silver membership: costs € 800, and gets you one case of 24 bottles of Brugse Zot Blond a year for life, six glasses and an invitation to the inauguration;
Bronze membership: costs € 220 for one presentation bottle of 75cl of Brugse Zot Blond a year for life, one personalized glass and an invitation to the inauguration.
The estimate on the Gold Formula meant that if you lived for 10 years you will receive 1,200litres of beer for just €6.25 a litre. Quite a savings if you love their beer.
In a recent article in WaPo, owner Xavier Vanneste, son of Véronique Maes, said initially everyone thought it was a joke. The initial sentiment was;
"Something like an underground beer pipeline would never be possible. I talked about it with some people I know in the oil and gas industry, and they said, 'Why would it not be possible for beer?'"
The beer pipeline is able to transport 1,500 gallons a beer each hour.  Belgium is well-known for its fine beer.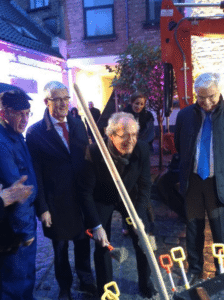 In an article in WSJ.com, the mayor of Bruges called the pipeline a "breakthrough."  Having pipes above and below ground made the brewery able to maintain its operations in the city center – a city that sees millions of visitors each year. While there are other breweries that have piping to transport beer there are none in existence on such a scale, especially for a historic city like Bruges.

If you happen to be in Bruges this summer, the beer will truly be flowing in the streets.

Have a crowdfunding offering you'd like to share? Submit an offering for consideration using our Submit a Tip form and we may share it on our site!

Sponsored