Fairway America, LLC, a Portland-based real estate asset, finance advisory and investment firm announced today that its client, Elevate Private Capital has launched its new $20 million fund through real estate crowdfunding marketplace, SBREfunds.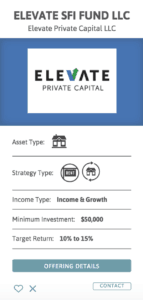 The Elevate SFI Fund LLC is described as a buy-and-hold and fix-and-flip fund. The company plans to apply that expertise to the fund's strategy of acquiring single family homes in Dallas/Fort Worth at below market prices and then renovating them for resale or lease. Tim Herriage, CEO Elevate Private Capital, stated:
"The investment strategy allows us to acquire single family homes that meet our underwriting guidelines, improve the assets, and then primarily sell or lease the properties using time-proven realty channels. I believe that using the combination of retail sales and retail leasing strategies creates the potential for attractive returns, and allows us to leverage our core competency of creating passive income to our investors by building a sizable rental portfolio in Dallas/Fort Worth, one of America's strongest real estate markets."
Elevate elected to list their first fund on SBREfunds, which was launched by Fairway America in 2015, and is seeking up to $20 million. Matt Burk, CEO of Fairway America, commented:
"SBREfund's Marketplace is still the only online listing service that continues to focus primarily on the unique landscape of the SBRE pooled investment space. We are focused intently on fostering and growing this community of investors, entrepreneurs, and fund managers by bringing greater awareness and visibility to this market segment and its opportunities. We are pleased and excited to add Elevate's first Fund on our site."
Elevate also recently presented at Fairway's Small Balance Real Estate Investment Summit at the Montage Resort in Laguna Beach, California.