Spotfund, a mobile micro-donation platform, today launched its iOS app. Targeting millennials, Brooklyn-based Spotfund allows users to fund causes and current events with only $1, $2 or $3.  Donations made through Spotfund are tax deductible. At the end of each monthly billing cycle, Spotfund provides an itemized receipt of all donations made that month.
"Spotfund is changing the perception of what it means to be civic minded," explained Michael Marian, COO and co-founder of Spotfund. "By giving our users a platform to tell stories that raise funds for causes, we're helping people draw personal connections to the events shaping their world, whether in their own backyard or across the Pacific."
For Spotfund's launch, the platform selected approximately 360+ U.S.-based 501(c)(3) nonprofits that were chosen based on their area of focus, awareness level and quality ratings. There will be 50 stories in the app with 5 stores in the spotlight, according to an email from the platform; the app can hold an infinite number of stories.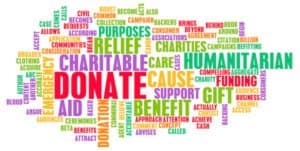 With Spotfund, users can discover and donate to the global stories. Users may also create a story of their own to raise funds for a cause that matters to them. With donations capped at $3, the platform is designed for everyone looking to make a difference; by closely integrating with major social networks, Spotfund helps turn conversations into results. Via email, I asked about the new platform's vetting process. Spotfund answered that the team selected the launch nonprofits based on cause area, relevance to their audience and quality metrics (Charity Navigator). Honeycomb will be informing decisions moving forward.
When asked what sets Spotfund apart from peer sites such as GoFundMe or even Kickstarter or Indiegogo, the startup answered via email,
"Spotfund is a mobile-first platform, so it's easy to open and swipe a few times instead of going through online website portals. Spotfund is helping national causes, instead of individuals, and the micro-donations of one to three dollars levels the playing field so that all feel empowered to make a difference. There is also a built-in social media feature to share with all your friends in real-time as you donate."
Donating on Spotfund aims to be simple: just drop a token onto a story to contribute $1, $2 or $3. Once a donation has been made, one may share it with a social network through platforms like Facebook and Twitter, encouraging others to give – and helping a cause go viral. Spotfund currently charges a 5% convenience fee, as well as a credit card processing fee, which is deducted from each user donation.

Each story in Spotfund has a spottag, a title denoted by an asterisk – such as *FlintWaterCrisis – that one can share online or in the physical world as a shortcut to the story. Sharing a spottag is the easiest way to promote a cause and increase one's Impact score. The Impact score tracks the size of each user's civic footprint. It increases with each dollar donated and with each dollar raised by the stories one creates and shares. For example, if someone donates $1 to a cause and share it with a friend who donates $3, a total of 4 Impact points will be earned.
Spotfund is working closely with a select group of nonprofits and brands to help them raise funds and create awareness for their causes. At launch, Spotfund's list of partners includes: ALS.net, MissionBlue and The Kōkua Hawaiʻi Foundation.
"Making an impact isn't about the size of your wallet, it's about the power of your social network," noted Spotfund CEO and co-founder Sanford Kunkel. "Through micro-donations, we're opening the idea of philanthropy to people from all walks of life. If you share even a $1 donation to Facebook, you can potentially inspire a critical mass that will lead to real change."
Kunkel touts several successful ventures in hospitality and real estate, including the downtown NYC hotel The Bowery House and the restaurant Pearl & Ash, winner of a 2016 Michelin Bib Gourmand award. Another key team member is Perfecto Sanchez, Chief Impact Officer. After leaving the Army in 2010, Sanchez launched his marketing and innovation career landing at Kraft and Danone.

Have a crowdfunding offering you'd like to share? Submit an offering for consideration using our Submit a Tip form and we may share it on our site!

Sponsored Links by DQ Promote