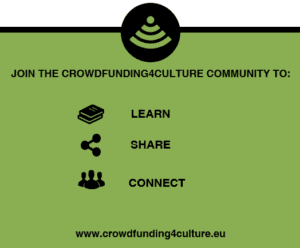 Enlisted by the European Commission to uncover empirical data on crowdfunding, Crowdfund4Culture is seeking participation in an online survey to learn about individuals and organizations experience with crowdfunding. Whether you are a business, non-profit, elected official or an individual they are trying to get as many people as possible to complete the confidential survey. Crowdfunding4culture is striving to reach as many cultural and creative professionals, crowdfunding platforms, donors and investors, and policy makers with an interest in crowdfunding in cultural and creative sectors. The project wants to learn from each other, to share knowledge and experiences, and to connect.
Crowdfunding4Culture wants to become a European-wide information hub for anyone who wants to learn more about crowdfunding in the cultural and creative sectors, the different models and platforms, lessons to learn from (un)successful projects and tips and tricks on crowdfunding campaigns.
Crowdfunding4Culture is part of a pilot project Crowdfunding for the cultural and creative sectors: kick-starting the cultural economy", commissioned by the European Commission to IDEA Consult and its consortium partners ECN and Ecorys.
The project has been divided into four parts culminating with a meeting in Brussels.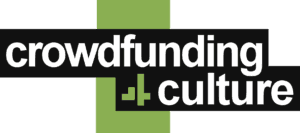 The four portions are as follows:
Analyse the impact of crowdfunding for Creative and Culture Sectors (CCS) in Europe
Assess the market for CCS in Europe
Create an informative and interactive website for CCS
Conference in Brussels in June 2017 to review and share information
The survey is available in French, English and German.

Sponsored Links by DQ Promote