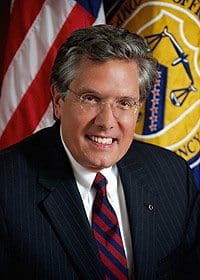 Speaking at the Office of the Comptroller (OCC) Forum on "Supporting Responsible Innovation in the Federal Banking System", Thomas Curry reaffirmed his previous statement on Fintech there needs to be thoughtful change in the banking sector. The OCC published a report on Fintech earlier this month entering the forum of Fintech polemics.
While stating that "innovation has always been an integral part of the banking and federal banking system", Curry appeared to be concerned with the pace of Fintech change. While financial innovation has helped many consumers, "we've seen the need for heightened risk management to keep pace with the rapid changes in technology, products, services, and processes," stated Curry.
According to a report in ABB, during Q&A, Curry said he sees a need for a regulatory sandbox, an approach that was trailblazed by the UK;
"[ a regulatory sandbox is] a place for the regulated institutions and fintech firms to have a conversation about what the rules of the road are…Our concern is to make sure that consumers are not disadvantaged," Curry said. "In terms of the potential for chartering limited purpose firms, that's something that presents legal and policy issues that we are trying to address during this process."
Curry cautioned about a need to make the financial industry stronger;
"…we want to encourage and promote advances in products, services, and processes that serve consumers, communities, and businesses better and more fairly…Whether it starts in a bank innovation lab or in a Silicon Valley garage, innovation that helps banks achieve that goal contributes to the vitality of our banking system and makes our financial services industry stronger. At the same time, regulators and the industry must not allow unnecessary risk for dubious benefit to creep into the system. We can't be idle witnesses to potential harm to consumers, banks, or the federal banking system as a whole. That's the challenge for our agency and the challenge for all participants and attendees in the room today."
Curry's speech is embedded below.
[scribd id=316590526 key=key-Y8w4k6KbyI3rp4Qs6Q8H mode=scroll]