Dow Jones Venture Source is reporting an increase in venture capital fundraising for Q2 of 2016. Fundraising was said to "rocket" during the quarter, in contrast to the same quarter in 2015. The largest fund to raise money was EQT Ventures based in Stockholm that hoovered up €566 million.  EQT was then followed by Accell Partners in London at €465.3 million and Rocket  International in Berlin at € 223.06, all giving the sector a nice multinational flair.
During the second quarter, about €3.02 billion was raised for 461 deals, an 18% increase in the amount raised from the previous quarter as well as a 9% rise in the overall number of deals. Overall investment declined by 22% versus the same period in 2015.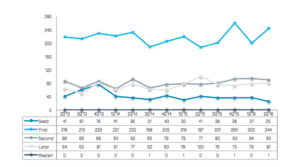 The largest sector receiving VC backing was Consumer Services, claiming the top spot for both number of deals and total raised. This was followed business and financial services in second place, once again for the number of deals and total raised.
The UK held the top spot, once again, as the most favoured nation for equity financing.  The Brits took in €870.11 million for 115 different deals or 29% of all equity financing for Q2.  Germany jumped into second place with €547.92 million for 18% of European financing.  Luxembourg and France took 3rd and 4th place respectively.
While a quarter does not make a year and Brexit aftershocks will be felt for many months, the numbers, overall, were not discouraging.
See the Dow Jones Venture Source report below.
[scribd id=318916854 key=key-wUSpscEa9DG9X1L0jHoP mode=scroll]