Less than two weeks after launching its Indiegogo campaign, collaborative startup SuperMeat has successfully secured its $100,000 funding goal. The company, which consists of scientist, conscious meat eaters, vegans, environmentalists, and health advocates, launched the crowdfunding campaign to create a new system that will end animal suffering in the meat production industry.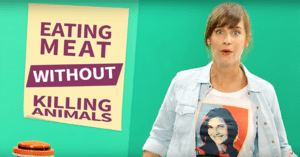 SuperMeat's system will use small tissue samples from chickens (this won't hurt the animals) to organically grow real chicken meats in its lab.
"Using tissue engineering techniques refined from regenerative medicine, animal cells are incubated in an environment that mimics the natural body of the animal. The cells are then enriched with nutrients that help the cells thrive and divide, growing into a full meal-ready piece of animal meat."
SuperMeat noted that this system was tested in 2013 when the world's first cultured burger was cooked and eating in London. Yaakov Nahmias, an award-winning biomedical engineer and a professor at the Hebrew University of Jerusalem, is head of the SuperMeat team. He was dubbed winner of the Rapport Prize for Biomedical Sciences for his work on liver tissue engineering and developing nanotechnologies therapies for the diabetes treatments. He also has a two-time recipient of the ERC award and winner of the NIH Career Award.
The company is looking to raise $2.5 million for the system, but if the campaign surpasses $500,000, they will have a proof of concept for the machine. At $1 million, they will be able to have a cost efficient production of small chicken tissues. If it officially secures the $2.5 million, they will reach their cost efficient prototype and get ready for tasting. The campaign is set to close at mid-September. 
Have a crowdfunding offering you'd like to share? Submit an offering for consideration using our Submit a Tip form and we may share it on our site!