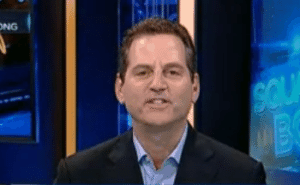 Earlier this month during a swing through Asia, Ron Suber, President of Prosper, visited the studios of CNBC from Hong Kong. Always on message, Suber explained the insatiable search for yield from all around the world in this historically low interest rate environment that is probably not going away anytime soon.  For investors, Prosper offers an average rate of return of 7.4%. Most of the borrowers are doing debt consolidation, making a major purchase, or covering an exceptional cost. Suber described his marketplace lending platform as a "win-win for everybody" both borrowers and investors.
Asked about default rates (there will always be some), Suber explained the best borrower tier experienced a default rate of one-half of one percent. As you get into riskier loans, the default rates are higher but then the rate paid goes up as well. In the end, it is all about diversification for both retail investors and institutional types.
In Q1 and Q2, marketplace lending hit a wall of challenges as investors pulled back and questions cropped up about the resiliency of the online lending industry. All of that is looking like an image in the rear-view mirror right now as investors, including big money, are beginning to return.