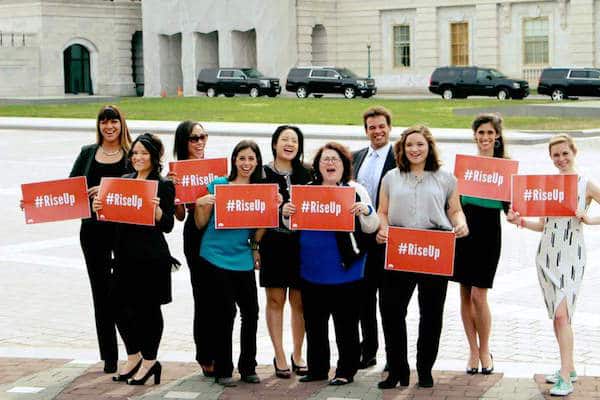 This week, Amanda Nguyen 24-year-old rape survivor and founder of national civil rights nonprofit, Rise, took to crowdfunding platform GoFundMe to raise $450,000 as part of her mission to get Sexual Assault Survivor Bill of Rights passed.
Nguyen revealed that she has made it her life's mission to strengthen the rights of sexual assault survivors throughout the country. Speaking about her experience, she wrote:
"Almost three years ago, I was raped. That night, I had a rape kit performed so that the evidence on my body could be saved and submitted to the state of Massachusetts. However, the evidence they took from me after 6 hours of analysis is not safe because Massachusetts can destroy my rape kit after 6 months, even though the statute of limitations for rape is 15 years. Every 6 months, I have to save my rape kit from the trash by filing an extension request to make sure that it is saved. I live my life according to the date of my rape to ensure that my access to justice is preserved – 6 months from my rape, 1 year from my rape, 18 months from my rape. These are the dates that must swirl through my head so that I can one day seek justice.

"On top of being able to destroy my kit without my consent, Massachusetts didn't even tell me how to file an extension request for my kit. I had to figure that out on my own. In the course of doing this research, I found that rape survivors in other states are treated differently. If I was raped in Texas, Illinois, Colorado, or California, then my kit would be preserved. On the other hand, some states hold the kits for even less time than Massachusetts – New Hampshire can destroy kits after only 60 days. Overall, no state has comprehensive civil rights for sexual assault survivors, and the rights given to survivors varies drastically from state to state. Justice should not depend on geography."
She also revealed:
"Every six months, I have to save my rape kit from the trash. My story is not mine alone. There are an estimated 25 million sexual assault survivors in the U.S. Rise is fighting to protect their civil rights – including making sure they are notified of their rights, saving their evidence, guaranteeing they don't have to pay for their rape kits and ensuring their voices are heard. This GoFundMe campaign is critical for us to take this fight across the nation's 50 states and to bring survivors to meet their lawmakers face to face."
In addition to drafting the Sexual Assault Survivor Bill of Rights, Rise will reportedly ensure the bill's unanimous passage in the U.S. Senate. The bill must pass the U.S. House, and the campaign will raise the funds necessary to advocate for the reform.
_______________________________________________________
Have a crowdfunding offering you'd like to share? Submit an offering for consideration using our Submit a Tip form and we may share it on our site!