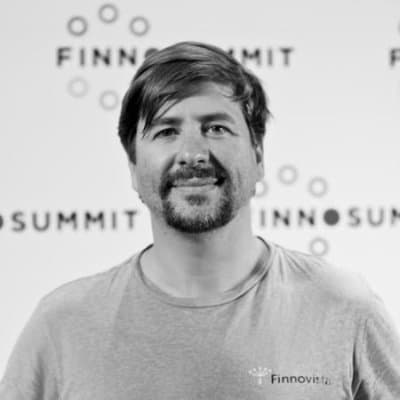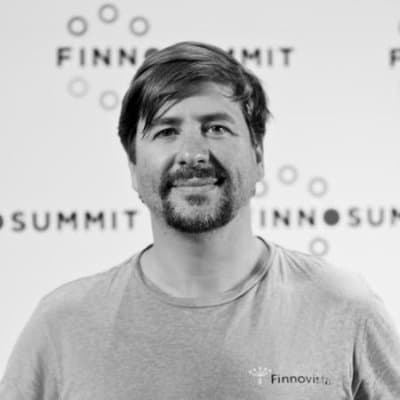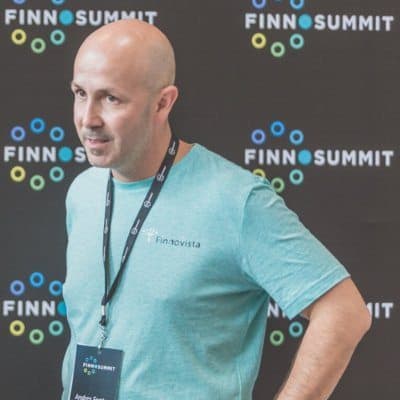 When Finnovista first covered Spanish fintech in 2013, the site recorded only 50 startups in the sector; now, three years later, in its first edition of Fintech Radar Spain, the site identified 207 Spanish fintech startups, indicating the sector had quadrupled in three years, stats largely in line with fintech's global trend.
Cofounded by Fermin Bueno and Andres Fontao who also cofounded Startupbootcamp FinTech LATAM, Finnovisita sees itself as an impact organization that accelerates Fintech entrepreneurship, builds bridges between startups and financial institutions and facilitates the transformation of advanced financial services and the eradication of financial exclusion.
Finnovista predicts that over the next five years fintech startups will compete to overtake 20% the traditional Spanish banking market creating a more significant presence in all categories of financial services including Payments, Loans, Management Corporate Finance and Personal, Insurance, Investment Management, Trading, and Savings.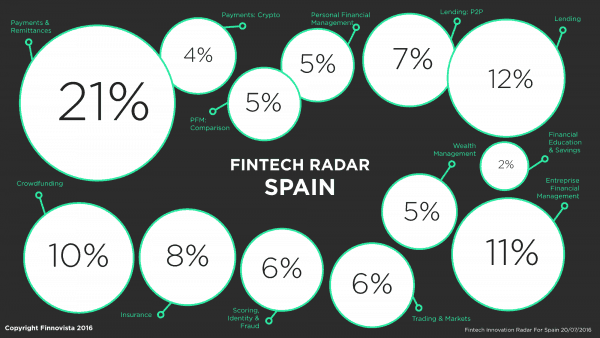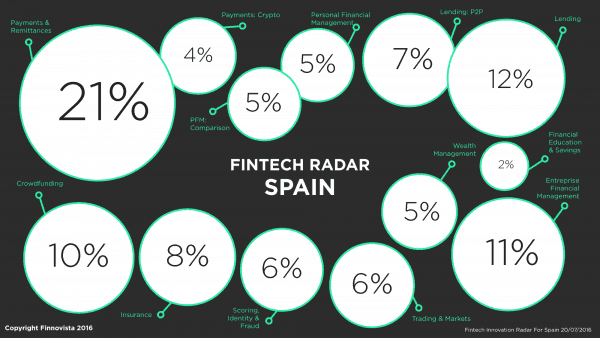 Finnovista's Fintech Spain Radar infographic shows how retail banking subsection has become threatened by the Spanish Fintech, with more than 80% of startups Fintech B2C solutions competing directly with commercial banks.  In the infographic, Spanish innovation and disruption is  concentrated on Payments, Remittances & Crypto (25%), P2P Lending & Lending (19%), Enterprise Financial Management (11%), Crowdfunding (10%), Personal Finance Management (10 %) and Insurance (8%).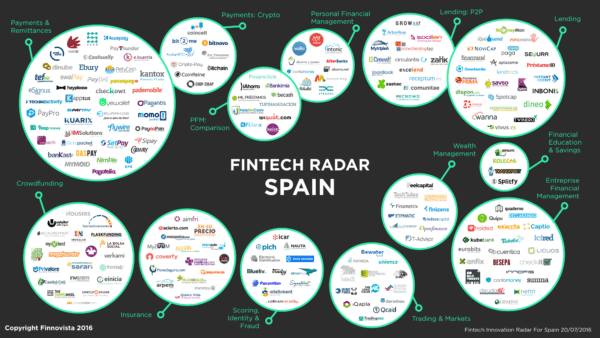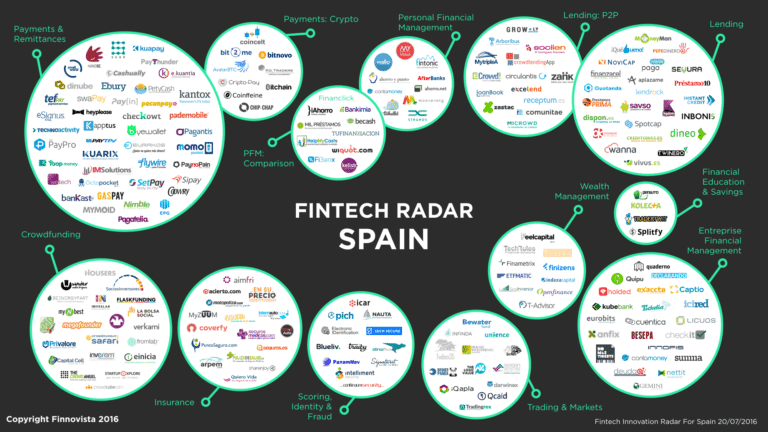 Finnovista's Fintech Radar in Spain categorically breaks down the startups evincing how Spanish Fintech startups are disrupting financial services, thereby threatening the position of banks and national and international insurers which have traditionally dominated this sector. This infographic sends a message to banks and insurers: it's time to adapt to tech and embrace the opportunities provided by tech, mobile and digital solutions.
In addition, Finnovista cited that Spain's 207 fintech startups make Spain the largest market for innovation compared to Latin America, ranking significantly above Brazil's 130 startups, Mexico's 128 startups, Colombia's 77 startups and and Chile's 56 startups. Not surprisingly given these statistics, Spanish Fintech leads in number of startups in 12 of the 13 categories that Finnovista monitors through its initiative Fintech Radar for Latin American countries.