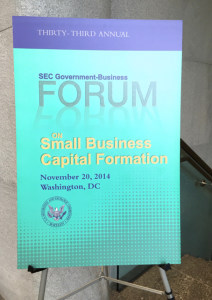 The Securities and Exchange Commission (SEC) will host its 2016 Government-Business Forum on Small Business Capital Formation on Thursday, November 17, 2016, from 9:00 a.m. to 5:30 p.m., at the SEC headquarters at 100 F Street, N.E., Washington, D.C. 20549. The 2016 Forum will include both a panel discussion and breakout groups. An agenda of the proceedings will be published soon.
Members of the public are invited to attend but are asked to pre-register by November 11th. The morning panel discussion will be live-streamed on the SEC website with the afternoon sessions accessible by telephone conference call.
The public is invited to suggest topics regarding small business capital formation to be considered at the 2016 Forum.  Anthony Barone in the SEC Office of Small Business Policy may be contacted at (202) 551-3460, or [email protected], or 100 F Street, N.E., Washington, DC 20549-3628.