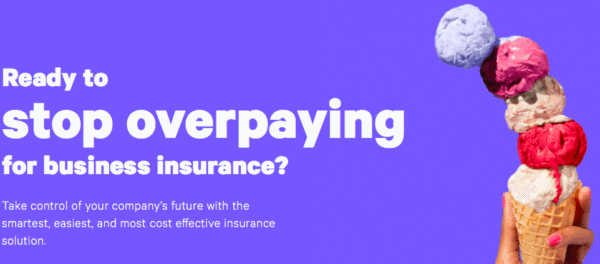 Embroker, a modern business insurance platform designed to improve how companies of all sizes buy and manage insurance coverage, announced the public launch of its technology platform. The system allows businesses to digitize existing policies and data, analyze, compare, buy new coverages, and file and manage claims all in one place. As the first digitally-born insurance brokerage and risk manager, Embroker provides insurance solutions tailored to fit the needs of each business and has built the technology platform, resources and scale to serve a full range of commercial accounts.
"There's a massive opportunity for well-designed modern technology products to transform the world of commercial insurance, which is unsustainably inefficient," stated Embroker CEO and Founder Matt Miller. "By automating manual processes and making costs and value transparent, we are saving companies time and money and making sure they end up with the coverage they need to match their actual risk. Insurance can be one of the biggest costs a business faces, so getting the right insurance coverage at the right price can have a huge impact on profitability."
Embroker has already partnered with more than 25 leading commercial carriers, including seven of the ten largest, serving companies whose annual spend on premiums ranges from $5,000 to more than $500,000. Its platform provides a comprehensive selection of policies ranging from standard to fully customized, enterprise-level risk management functionality, and the first user-friendly experience in commercial insurance.
In addition to its technology platform, Embroker employs a team of licensed insurance experts and risk managers who formerly held senior roles at companies including Aon, Marsh, Willis Towers Watson and HUB International. Since releasing the platform into a closed beta in January 2016, Embroker has on-boarded hundreds of companies and expects to grow more than 10 times in its first year of availability, said the release.
"Embroker provides a much smarter and easier solution for buying corporate insurance," explained Exactuals CEO Mike Hurst. "Embroker's platform identified both coverage gaps and instances of duplicate coverage. Embroker was then able to enhance our coverage while reducing costs by taking a comprehensive view of our risk management needs. The result of their efforts was a stronger insurance program for our growing business, delivered at a lower cost."
Embroker also announced the appointments of insurance veterans Thomas Mangan, formerly CEO of United Benefits Advisors, as vice president of employee benefit operations, and Deanna Johnston, formerly associate general counsel litigation and coverage counsel at Fireman's Fund Insurance, as general counsel and vice president of compliance and human resources. Embroker will also continue to expand its team of insurance experts and risk managers in both its San Francisco and Chicago offices.
This past May, Embroker received $12.2 million injection during a Series A funding round led by Canaan Partners with participation from Nyca Partners, XL Innovate, and Silicon Valley Bank. Prior investors Bee Partners, FinTech Collective, Vertical Venture Partners and 500 Startups also participated in the round.