On Monday, Morningstar, Inc. (NASDAQ: MORN), announced it has appointed Mitch Shue to chief technology officer and James Rhodes to chief data officer. The company also reported that it has expanded its global headquarters in Chicago for its technology employees.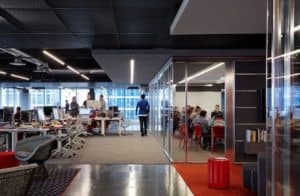 Shue is responsible for Morningstar's long-term technology vision and execution as part of his duties as chief technology officer. He first joined Morningstar in 2014 through the company's acquisition of HelloWallet, where he served as chief technology officer. For Rhodes' new position, he will oversee data operations at Morningstar, focusing on the company's data technology strategy, including data collection, processing, and storage. He was previously appointed chief technology officer and partner at Rocaton Investment Advisors, LLC.
Kunal Kapoor, Morningstar's president, commented:
"Mitch's and James' appointments to Morningstar's leadership team help strengthen our commitment to technology, one of our core competencies. Their expertise will prove invaluable as global demand for our independent research and data continues to increase in light of evolving regulations and industry standards. We're committed to continuous technological innovation to best help investors reach their financial goals."
Kapoor then added:
"The thoughtful design is in line with our deliberate focus on the user as the center of our product development. The new space conveys Morningstar's spirit of creativity and transparency, as well as the attention to detail and design that distinguishes our products."
The announcements come just days after FinTech Sandbox added Morningstar to its network. Morningstar explained it plans to offer FinTech Sandbox participants access to Morningstar Managed Products Data, Morningstar Equity Data, Morningstar Real-Time Market Data, and Morningstar By All Accounts Data from more than 15,000 sources. Morningstar will also be holding its inaugural FinTech Forum on November 10th.