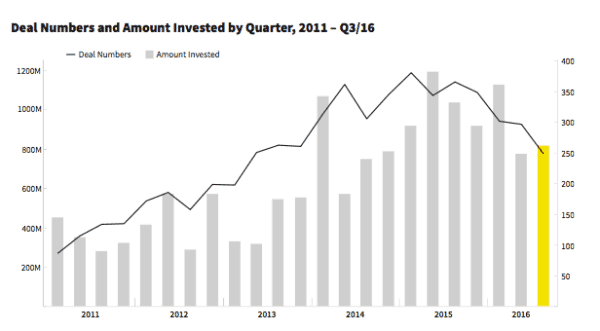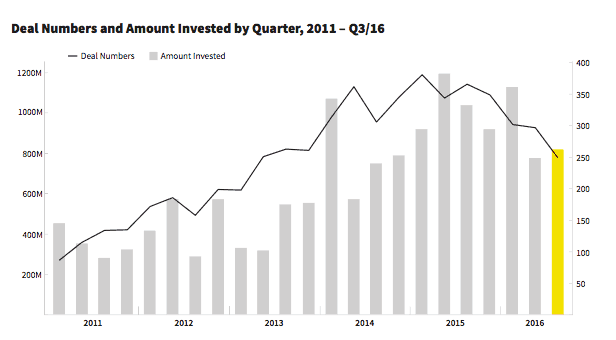 ---
UK research firm Beauhurst is out with their Q3 report on equity investment  in non-listed UK firms. The authoris state that equity funding rounds continues to fall delivering three consecutive quarters of decline. According to the Deal report, there are three different reasons for the "doom and gloom";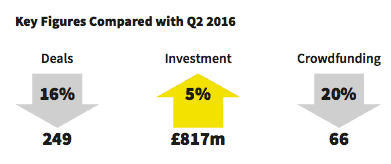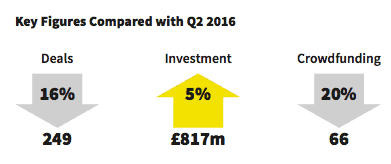 Brexit caused many high-growth companies  to paus and question access to markets
Saturation in previously high-growth sectors like App development, breweries and other sectors
Investors appear to be getting "warier" of early stage companies. Later stage companies have not experienced the same decline.
Looking for a silver lining, Beahurst states there are positive signs.
"We've seen huge deals for some of Britain's brightest young stars, indicating that the money is still there – if the idea and model are good enough. But the art of growing startups into scaled businesses has become a little more challenging this year."
Digging deeper,  Beuhurst says the number of deals declined by 16% in Q3 versus previous quarter but overall investment increased by 5% to £817 million. This last number was helped by Deliveroo that raised £210 million.
The top investor by number of deals included prominent equity crowdfunding platforms. Seedrs took the top spot with 34 deals and Crowdcube came in at number two with 29 deals.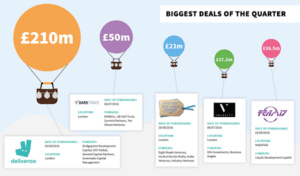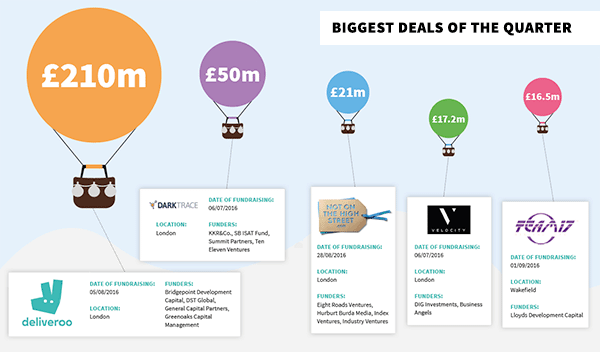 Beauhurst pointed to the decline in deals;
"Crowdfunding platforms saw a 20% fall in deal numbers in Q3/16 compared with the previous quarter. Crowdfunding deal numbers have been in decline since the beginning of the year, reflecting the broader slump in deals across the UK. Private Equity and Venture Capital deal numbers also reflect this trend, and have fallen significantly from the beginning of the year. However, they only saw a decline of 10% when comparing Q3/16 with the previous quarter."
Beauhurst says the "equity gap" is returning as investors become more risk-averse and focus on later stage opportunities.

It should be noted that Seedrs just announced a record month for October stating they have funded almost £20 million for companies listed on their platform.

The Beahurst report is available here for download.

Sponsored Links by DQ Promote