Alibaba's financial affiliate Ant Financial has reportedly invested in and has formed a strategic partnership with Thailand-based fintech company, Ascend Money. This news comes just a few months after the company previously planned to acquire 20% in Ascend Money.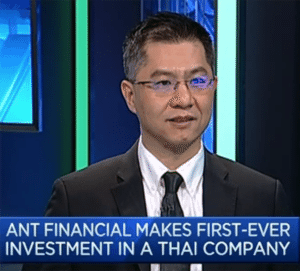 According to CNBC, the companies revealed that the partnership will help Ascend Money grow its online and offline payments/financial services. Ascend Money is based in Thailand but currently operates in Indonesia, The Philippines , Vietnam, Myanmar, and Cambodia. It now offers e-payment services and micro-loans. Details about Ant Financial's investment in Ascend Money have not been disclosed.
Ant Financial completed its initial round in summer 2015 and raised 12 billion yuan ($1.9 billion). Following the pre-IPO funding round, Alibaba announced Ant Financial unveiled an integrated wealth management app designed to provide Chinese consumers with "simpler access" to the company's growing number of financial services. The company has more than 200 million users. Earlier this year, Ant Financial announced its second pre-IPO funding round.
See Ascend Group's Punnamas Vichitkulwongsa and Suphachai Chearavanont discuss the company's new partnership with Ant Financial below.