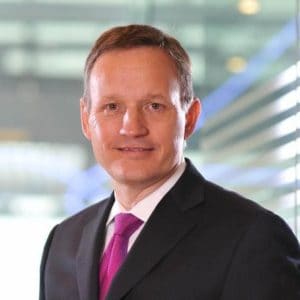 Former Barclays CEO Antony Jenkins launched yesterday a fintech startup called 10x Future Technologies. The startup's mission statement is "10x exist to create a new banking ecology — one that is more diverse, open and fair." Partnering with Virgin Money to build a new digital banking platform, 10x aims to reinvent financial services.
According to Jenkins, 10x plans to transform outdated banking infrastructure and technology.  As Executive Chairman at 10x, Jenkins explained;
"Have you ever received an official bank letter about a financial matter you settled years ago, or been told incorrectly that details on your account are wrong? That's because the pillars that underpin the existing banking infrastructure are often dated, overlapping and inefficient, and core banking IT systems are sometimes so cumbersome that it's difficult to get them to talk to one another.

Even if you have a mortgage and a current account with the same bank, for example, the systems that underpin those two services might not effectively communicate with each other. They reduce potential returns for investors, slow down the customer experience and encourage the complicated banking products that make it virtually impossible for customers to compare providers and get the best deal.

I'm convinced that 10x Future Technologies can offer the solution. We'll provide the technology to enable banks to unify those systems into a centralised interface, creating much better customer service in the process. Our technology will help banks offer more personalised credit cards, loans and accounts, among other products. It'll also allow them to crack the information hidden in the personal data they hold about their customers, which means they could anticipate when a small business owner might need a more flexible line of credit, or offer personalised mortgages that allow you to overpay to reduce your debt, or skip a payment when you need extra cash at Christmas."
Joining Jenkins in his comeback are COO Brad Goodall, CTO Mark Allcock, and Chief Creative Officer Patrick Cox.