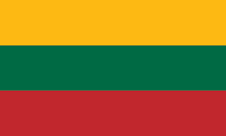 The Republic of Lithuania has just announced updated regulations designed to facilitate the growth of investment crowdfunding.
Vytautas Šenavičius, a partner at the law firm of TVINS and Chairman of the Board of Lithuanian Crowdfunding and P2P Lending Association, told Crowdfund Insider;
"Today the Parliament of the Republic of Lithuania passed the Law on Crowdfunding. Through discussions with the Bank of Lithuania and the Ministry of Finance we agreed to amend the previous draft which led to more flexible regulation."
The new sector of finance will be regulated by the Bank of Lithuania. The Bank will be drafting the specific rules to come into force this month and will become actionable on December 1, 2016.
Crowdfunding platforms may raise up to € 5 million without a prospectus. If an issuer seeks funding in excess of €5 million a prospectus must be submitted and approved by the supervisory authority.
A document outlining the new regulations was provided by TVINS and is embedded below.
[scribd id=329866264 key=key-FXMCYtnfOY3NjiQ0ck01 mode=scroll]