Fintech is emerging as the next big transformation in India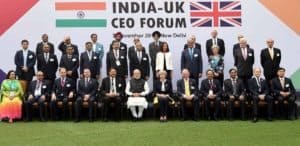 India and the UK held a joint Tech Summit on November 7-9 in New Delhi, where Prime Minister Narendra Modi of India emphasized close collaboration between the two nations during his remarks because it was "vital that India and the UK — two countries linked by history — work together to define the knowledge economy of the 21st century."  PM Modi pointed out key areas of the bilateral relationship, including trade, collaboration on science and technology research and innovation, and investments in entrepreneurship. According to Modi,
"The present India-UK cooperation in science and technology is driven by high quality and high impact research partnerships. I am glad to mention that in less than two years' time under the Newton-Bhabha program we have started wide ranging collaborations covering basic science to solution science aimed at addressing societal challenges. Together, our scientific communities are working on new vaccines for infectious diseases, inventing new smart materials, providing solutions for clean energy and climate change mitigation, and improving crop productivity including agriculture and food security. We have agreed to establish India-UK Clean Energy R&D Centre on solar energy with joint investment of 10 million pounds. A new Anti-Microbial Resistance initiative with joint investment of 15 million pounds is also being launched. I feel that India and UK can partner in harnessing the vast traditional knowledge base in India coupled with modern scientific investigation to provide a holistic approach to preventive healthcare. This can help address some of the modern life style diseases that we face."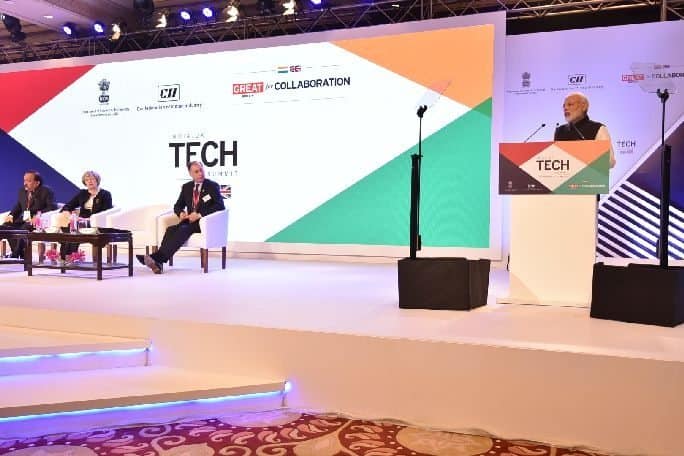 Modi also mentioned the India-UK partnerships in industrial research and projects on affordable healthcare, clean technology, manufacturing, information and communications technology (ICT), and smart cities, which he hoped would blossom into further innovation and entrepreneurship in both countries.  He encouraged the UK to take part in foreign direct investments (FDI) in India, calling India's FDI policies "liberal… in defense manufacturing, aerospace, and electronics engineering."
Modi also gave attention to India's Fintech sector, which he said "is emerging as the next big transformation [in] India as we bring 220 million new households into the umbrella of the 'Jan Dhan Yojana'. This financial inclusion scheme is being melded with mobile technology and the unique identification card to form the largest social security program in the world."
PM Theresa May of the UK was also in attendance. It was her first bilateral visit and first trade mission as Prime Minister. Beyond emphasizing free trade, she noted in her remarks that:
"[The UK India Tech Summit] is where so much scope for increased trade and investment lies. With three Indians experiencing the internet for the first time every second, with the country on course to be a digital market with one billion people, with so many graduates launching startups from Mumbai to Hyderabad or Cyberabad as it's known, this is an area filled with opportunities. … As PM Modi pursues his ambition for smart cities, Digital India, and Make In India, in Britain, we are focused on economic reform, social reform and building a country that works for everyone. I believe we should through our entire weight behind each other's efforts."
The themes of the summit included advanced manufacturing, biomedical devices, design, higher education, and innovation and entrepreneurship. Attendees included officials from government, academia, and industry from both countries.