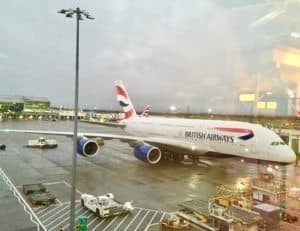 Victor is looking to disrupt the "flying on demand" jet charter market with a similar business model to that of Uber.  The company describes itself as such:
"On-Demand Private Jet Charter. The widest choice of jets, times, routes and prices, all at your fingertips, with no hidden costs or unexpected surcharges."
The company is based in London, but it also operates out of New York, Santa Barbara, and Munich.  It is currently crowdfunding on Crowdcube for Series B with a goal of £1,750,000 (approximately $2 million) with less than two weeks to go — it has only reached 3% of its goal through 124 investors at the time of writing.  This funding round is part of the company's broader Series B fundraising of £11,000,000 (approximately $13 million).  Victor intends to use its next round of investments to expand into Asia and the Middle East, as well as to continue building its technology.  Since its founding in 2011, Victor claims to be valued at £95,000,000 (approximately $118 million).
The company's product is obviously not for everyday citizens who don't have the money nor time to jet around the world, so Victor's market audience include "time-poor HNW business and leisure travelers" who wish to "experience the real freedom – and true luxury – of flying 'on demand'."
Though the target market is a small segment of the population, the company believes that its business can succeed  "thanks to its smart combination of high-tech booking with high-touch service, [where] repeat business makes up 70% of all flights."
In the future, the company's plans for "seat-sharing social flights" may make the product more attainable for more ordinary folks — maybe.

Victor stresses transparency in its business model.  As Founder and CEO Clive Jackson explained,
"The online copyists have continued to bombard potential fliers with 'offers' this summer, throwing vast amounts of money at special deals and promotions that look too good to be true. Fliers should be wary when these 'all you can eat' membership schemes offer such seemingly low pricing in return for their upfront fees – are these companies really thinking about how to build a sustainable customer base?

With Victor, we've shown we can disrupt, engage new customers and retain them – our model is free to use and free to choose, what with no need to commit to any upfront monies, annual subscriptions or joining fees. There are no gimmicks. We offer complete transparency, the widest choice of aircraft and a great customer experience, via our iOS app, website, and highly trained, 24-7, global customer service team. We've made significant investment in our underlying technology so we can transact at a lower cost than our off-line competitors. But we also focus on delivering exemplary customer service and the widest range of best value, 'on demand' flying options – our customers are free to tailor their perfect travel, where, when, how and with whom they want. They are not shackled by the limited 'shuttle' runs at pre-determined times that others talk so loudly about."
Victor has a number of competitors in the private aviation industry, but Jackson insists that Victor is "the Real Deal".
Have a crowdfunding offering you'd like to share? Submit an offering for consideration using our Submit a Tip form and we may share it on our site!