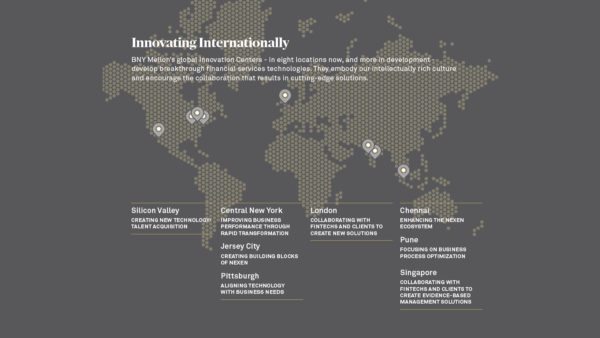 ---
Coinciding with the inaugural Singapore Fintech Festival, BNY Mellon opened its 8th "innovation center" in recognition of the growing dominance of Singapore in the Fintech race. The opening was announced earlier this month when Stephen Lackey, Chairman of Asia Pacific for BNY Mellon, explained;
"The opening of our eighth Innovation Center in Asia is a reflection of the region's rapidly developing innovative technology and fintech landscape, as well as the increasing importance of Asia to BNY Mellon's business. As our largest branch office in Asia Pacific, the Singapore Innovation Center reinforces BNY Mellon's commitment to the region's advancement in transformational technology in financial services and compliments the Monetary Authority of Singapore's continuing ambition to establish a vibrant innovation ecosystem and to develop the city as a Smart Financial Center."
Suresh Kumar, Senior Executive VP & Chief Information Officer, told the Business Times that the Singapore Innovation Center already has 25 employees and will be adding more. In total, more than 2700 BYN Mellon employees are focused in Fintech at their eight centers. They are also actively working on collaborating with over 300 Fintech firms.
"Singapore is particularly well placed as it has established infrastructure, strong corporate governance, very good talent pools, a forward-looking regulator that understands the power of technology, and universities looking at a lot of the new technologies coming out," said Kumar.
To put this in a bit of perspective, BNY Mellon has $30.5 trillion in assets under management or custody. It is one of the "longest-lasting: financial institutions in the world dating back to Alexander Hamilton in 1784. Today they operate in over 100 countries.
As for their innovation centers they are scattered around the world: Pune, India, Silicon Valley, Jersey City, Chennai, London, Pittsburgh, and New York City are on the list.  And now Singapore.
Kumar believes their size and access to talent puts them in a "prime position" to be an innovation leader. As for Singapore, with its forward thinking strategic approach to Fintech their location in the city is going to be an important catalyst for their innovation.