Earlier this month, tech giant Microsoft announced it formed a partnership with AMIS and the Industry Technology Research Institute of Taiwan to create Asia's consortium blockchain network on Azure. The company also revealed it is collaborating with banks such as Fubon Financial, Cathay Financial Holdings, MegaBank, KGI, Taishin, and CTBC Bank to further develop blockchain opportunities in the Taiwan financial market.

According to Microsoft, AMIS's blockchain solutions utilize distributed ledger technology and cryptographic authentication, which aims to streamline financial business operations and reduce money laundering risks and other cyber-attacks. Such solution can also be extended to other implementations such as Internet of Things (IoT) to further expand business opportunities. The company then noted that Azure is the cloud platform of choice for enterprises and not only is it compliant with various international standards along with certifications, but it also has security and privacy features built-in and is the only platform with BaaS.
Danny Ting, National Tech Officer of Microsoft Taiwan, stated:
"Blockchain is a catalyst that promotes cross-sector collaboration. At the moment, companies incur high costs when they perform any cross-organization transactions and this can be solved using blockchain technology. The offering can also inspire further innovative solutions for the industry. Microsoft's BaaS helps companies build a secure, reliable and interoperable blockchain infrastructure by leveraging Azure's machine learning capabilities to achieve useful data insights. More importantly, Azure complies with many international and industry certifications and standards, such as ISO 27001, ISO 27018 and PCI-DSS; as well as integrates identity management and authentication capabilities to ensure the highest level of security for the broad implementation of blockchain technology."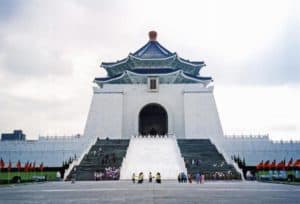 Microsoft then explained the pilot blockchain project is currently being developed with ITRI's cutting-edge technology and Azure. AMIS has chosen Ethereum to develop Permissioned Blockchain, which is an infrastructure specific to the needs of Taiwan's financial market. ITRI is providing its advanced technology to create an internal application program interface (API), while Azure provided high-speed cloud computing to ensure high security and efficiency for the blockchain infrastructure. Microsoft also ensured that the infrastructure met the specific requirements of financial institutions in Taiwan. Alex Liu, CEO of AMIS, revealed:
"Microsoft Azure offers a trusted cloud environment and provides AMIS with the necessary support in the areas of security, privacy, transparency and compliance. These are key in ensuring a sustainable development of local blockchain technology."
In addition to providing an open and powerful cloud platform, Microsoft added it is bringing its global expertise and knowledge to help companies in Taiwan drive further innovations with blockchain.