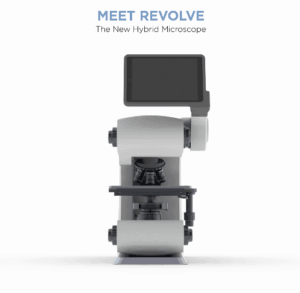 Echo Laboratories, a startup microscope maker, has closed a $2 million funding round led by Tech Coast Angels (TCA). The round was completed in less than two months and was said to be the Angel network's largest funding round for the year.  Tech Coast Angels is one of the largest and most active angel investor networks in the nation, leading funding for seed-stage and early-stage companies across all industries in Southern California.
The San Diego-based Echo Laboratories saw its funding round ceiling raised from $500,000 as interest in the investment increased. The round was spearheaded by TCA deal leads, Annie Mak and Dean Rosenberg.
The company's microscope, Revolve, is described as revolutionizing microscopy, integrating the functionality of an upright and an inverted microscope with tablet and cloud-based technologies.
"As a scientist who has 20 years of experience and goes through all the learning curves of cutting edge technologies, it was exciting for me to see Echo Labs challenging the status quo of microscopy and bringing in advanced usability of the 21st century," said Annie Mak, co-deal lead investor for TCA. "Revolve is user-friendly and very intuitive, so scientists can just focus on the biology under the lenses rather than the technicalities of operating a microscope."
Eugene Cho, CEO of Echo Labs said it was gratifying that some of the TCA members clearly understood the product and the demand in the marketplace.
"They shared their insight and enthusiasm with other biotech investors which led to a huge amount of momentum," said Cho.
Rosenburg said in the Echo Labs deal they got both the jockey and horse as Cho has the ability to take Echo Labs to the next level and the product was sound.
"Eugene is a very talented and innovative leader who has built a great team. And he has also built a product that has inspired customers and has caused our life sciences members to say, 'I want that microscope!'"

Echo Labs recently won TCA San Diego's Quick Pitch contest, beating out 146 other competitors for the $15,000 first-place prize. The company's microscope was not only the judges' favorite, it also won over a diverse 500-member audience that included seasoned investors and even elementary school children.
 "As a physician/scientist who has worked with and purchased microscopes for laboratory research, I never ever thought that a microscope could be cool. I was astounded by Revolve. Echo Labs has created a capable, cost-effective machine that has the potential to disrupt the microscope market," said Jeff Friedman, MD, PhD and chair of TCA's life science committee.
Cho said it has been a thrilling year for him and his company;
"…we look forward to facing exciting challenges in 2017: we received an international order that doubled our expected revenue which we will be fulfilling, and we will need to scale up to meet demand in sales, production and in R&D while continuing to ensure product excellence. We're also currently working on a higher end platform for Pharma/Academia, and an entry level system for the STEM marketplace."
Since its founding in 1997, TCA has invested over $176 million in more than 300 companies and has helped attract more than $1.5 billion in additional capital/follow-on rounds.

Sponsored Links by DQ Promote