Less than one week until its epic Kickstarter closes, Adam Poots' Kingdom Death: Monster 1.5 has become the most funded game project on the crowdfunding giant's platform, knocking 2015's Exploding Kittens from the spot. The game has successfully secured more than $8.8 million from over 16,000 backers.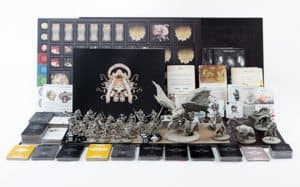 Kingdom Death: Monster 1.5 is described a massive cooperative board game. Players must survive a nightmare-harrow world by fighting for their lives against an onslaught of terrifying creatures. They will also use objects acquired from battles to build civilizations. Poots previously raised $2 million on Kickstarter for the original Kingdom Death in 2012. He shared:
"Through the experience of kickstarting Monster, I found a group of people that shares my vision for a blisteringly difficult game with a continually emerging story. I am truly humbled to share it with the world."
Following the most-funded announcement, Poots announced the game's first expansion expansion. He stated:
"I can't think of a better way to kick of our kickstarter here in 2017. As we developed the Lion God and started to explore [its] back story, we all become a little obsessed with the 'sleeping' city that was lurking below the battleground. What happened down there? What lives there now? And so! We get to explore it together! My current pitch, is that this expansion expansion dramatically changes up your mid-late game. Introducing itself at around year 12 or 13 (if you wanna skip to it, just put down the First Hero). Instead of going out to hunt quarry normally, your settlement can make trips into the Silver City, for a very different experience. An alternative way to prepare for your final series of battles. Adding this expansion, expansion will kind of rewrite a chunk of your timeline. Ending with a climatic battle with the Lion God, at full power naturally!"
The Kingdom Death: Monster 1.5's base game is set to be delivered in 2017 while its expansion packs are staggered to be delivered by 2020. Its campaign is set to close on Saturday (January 7th).
Have a crowdfunding offering you'd like to share? Submit an offering for consideration using our Submit a Tip form and we may share it on our site!