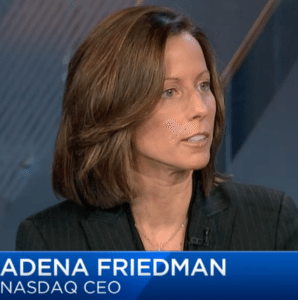 NASDAQ CEO Adena Friedman visited the new CNBC digs today to welcome the morning show pundits to NASDAQ and chat up her company's vision. Friedman, previously President & COO of NASDAQ, became the CEO on January 1st. Friedman stated, "we are both an exchange operator and a global Fintech company." Clearly, Friedman sees opportunity in the shifting tides of financial innovation. Friedman explained that all of their big projects are focused around technology.
So what does that mean exactly? Blockchain technology for one. NASDAQ is embedding that tech that they offer to other exchanges while experimenting with their own markets. Friedman said if you can prove a reduction of risk and improvements for users regulators will be on board.
Today, many companies delay going public as long as possible due to excessive cost and limited benefits.  NASDAQ, instead of fighting reality, has created their own "private market" to accommodate trading in non-listed securities or "efficient execution of liquidity for private companies."  Asked if the private market has become an effective on-ramp to public markets, Friedman admitted this wasn't the case.
Watch the video below.