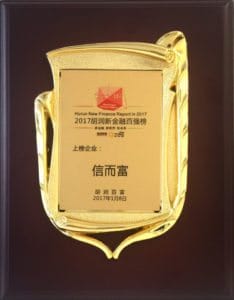 China Rapid Finance Limited, a large Chinese consumer lending marketplace launched in 2001, added to its recent haul of awards and recognitions by being named to Hurun Report's "2017 China New Finance Top 50." CRF's inclusion on the list reflects the company's stable growth in consumer lending in 2016, as well as its innovations in risk management using big data. This is the second consecutive year that CRF has been included in Hurun's "China New Finance Top 50" to recognize its pioneering efforts in consumer lending, its financial technology advantage, and its regulatory compliance. The Hurun list debuted last year.
The Top 50 list was selected based on company scale, growth, fund raising, industry leadership, risk control, media coverage, staffing, and user impressions. The Hurun Report, founded by Rupert Hoogewerf in 1999, is a magazine best known for its China Rich List, a ranking of China's wealthiest individuals.
"We are pleased that CRF has been recognized by the Hurun Report and many other media and industry organizations," said CRF Founder, Chairman and CEO Dr. Zhengyu (Zane) Wang. "With our unique business model and innovative technologies, we have created a leading marketplace that fulfills the lifetime consumer credit needs of China's emerging middle class, while providing investors with attractive returns."
CRF has won eight other awards and recognitions over the past three months, including:
"The Most Trusted Fintech Platform by Beijing Residents" from the Beijing Morning Post. CRF won the trust with its big data technology for risk management and high-level service (December, 2016).
"Innovative Fintech Business Model" award from IFENG WEMONEY. The award recognized CRF's efforts to serve 500 million Emerging Middle-class, Mobile Active consumers (EMMAs) while helping them to build credit histories (December, 2016).
CEO Dr. Wang became a member of "the New Financial Ecosystem Alliance" (December, 2016).
"2016 Innovative Financial Service Platform" award from Yicai Media Group. This recognized CRF's innovations in fintech, as well as its business model, in building a consumer lending marketplace (November, 2016).
Re-elected as council member of the China Micro Lending Alliance, and executive member of its P2P committee. CRF is the only company that has been elected as executive member of the P2P committee for five consecutive years (November, 2016).
"Outstanding Contribution with Fintech Innovation Serving Shanghai Citizens" award by the Shanghai Morning Post (November, 2016).
CRF CEO Dr.Wang was named to "FinTechAsia 100" list as one of top 38 entrepreneurs in Asia (November, 2016).
CRF was ranked a Class A online lending platform by Renmin University and Rong360 Big Data Research Center. China Rapid Finance leads the industry with six-consecutive Class A rankings (October, 2016).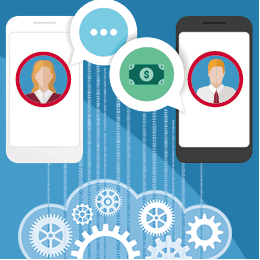 CRF operates the largest consumer lending marketplace in China, in terms of total number of loans, having facilitated more than 10 million loans, from inception through December 2016. The company uses proprietary technology to create a marketplace that fulfills consumer credit needs, while serving customers any time through its mobile platform. CRF has built predictive models using machine learning, big data algorithms and scoring technologies. CRF claims itself as the only marketplace lending platform in China to use Predictive Selection Technology to acquire customers on a massive scale at low cost with the most expansive reach to customers via a multi-data, omnichannel model.
"We pride ourselves on our compliance with regulatory requirements and adoption of industry best practices, and the honors from Hurun and these other organizations are also a reflection of that," added Dr. Wang.
This past week China Rapid Finance announced its partnership with Tencent's wealth management platform, Licaitong, to provide new investment products for individual investors.

Sponsored Links by DQ Promote