Citi's latest report, "Digital Disruption – Revisited: What FinTech VC Investments Tell Us About a Changing Industry", explores the evolving fintech industry.  In exploring different regions around the world, the report concludes:
China's rapid digitalization and rise of the middle class — combined with declining incumbent financial institutions that face competition from "entrepreneurial e-commerce and social media ecosystems" — will contribute to the country's continued relevance in the fintech sector.  Total fintech investments in China accounted for over 50 percent of total worldwide figures for the first nine months of 2016.
China and emerging markets will also remain enthusiastic about peer-to-peer lending, targeting underserved clients as a part of financial inclusion efforts.
North America, namely the U.S., will continue its 2016 exploration of InsurTech, where the health insurance space will take advantage of big data, IoT, and wearable devices.
Europe's bank will increasingly shift toward B2B with the bulk of traditional banks dipping into fintech since its VC market is smaller than that of the U.S. or China.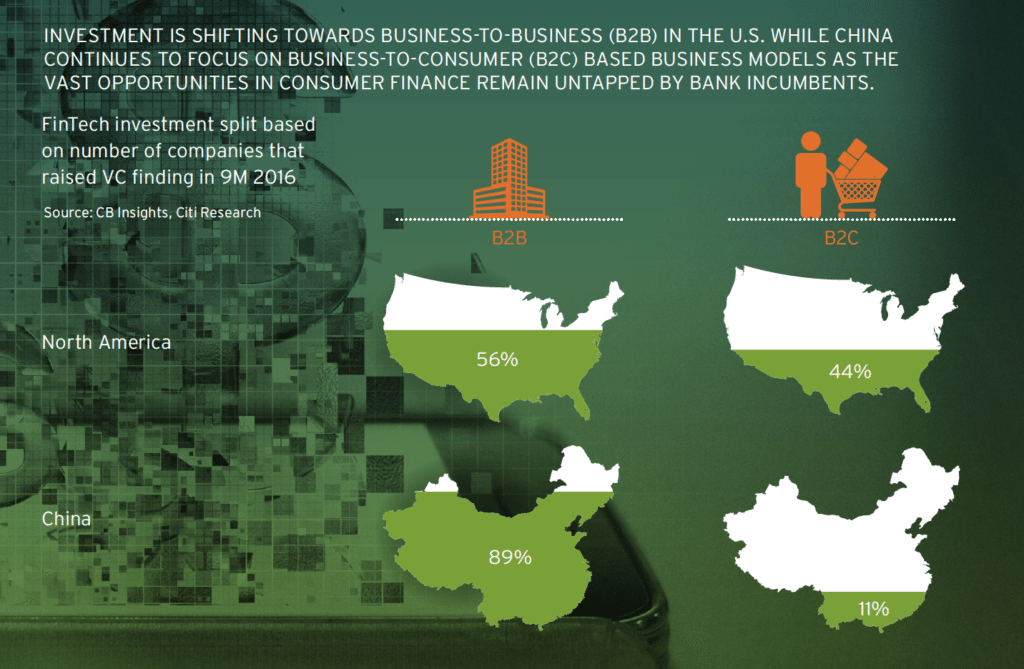 Despite the report's analyses of separate regional trends, it also stresses geographical expansions and overlaps.
"Established FinTech companies are likely to expand beyond their domestic market for growth. Alibaba is the most ambitious company among the Chinese Internet giants when it comes to international growth. Jack Ma, founder of Alibaba, is pushing to generate over 50% of Alibaba's revenue outside of China.

A lot of the expansion comes through acquisitions. In April 2016, Alibaba paid around $1 billion for a controlling stake in Lazada Group, an e-commerce platform in Southeast Asia. In 2015, together with Foxconn and SoftBank, Alibaba invested $500 million in Snapdeal, a leading e-commerce platform in India. In the same year, Alibaba and its affiliate Ant Financial invested close to $680 million in Paytm, Indian's largest mobile wallet, claiming a ~40% of stake."
However, challenges to companies looking to expand beyond their region include regulation differences, language and cultural differences that affect customer preferences, and varying culture in regards to credit use.
Citi also outlined the most popular fintech services that VCs fund:  payments, lending, business tools like online accounting software, and InsurTech.
For the full report, see below.
[scribd id=337675097 key=key-rGMErlNUpLYXYjnUzTPb mode=scroll]