Earlier this month, Ireland sent a delegation of public officials to visit Hong Kong and advocate on behalf of the country as a "gateway" for China to the European market.  The delegation participated in the 10th Asian Financial Forum.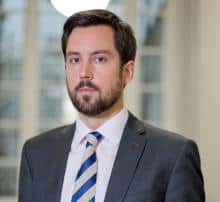 Eoghan Murphy TD, Minister of State for Financial Services, said while visiting Hong Kong;
"I welcome the opportunity to return to Asia to continue to promote the growth and job creation potential from stronger Ireland-China trade relations in financial services.  Just as Hong Kong is a gateway for Irish companies doing business in the wider region, I am here to promote Ireland as the financial centre of choice for Hong Kong and Chinese companies who want to do business in Europe."
Chinese press reported the Irish government saying, "Ireland is banking on the Asian Financial Forum to build connections with the fund industry to cement the country's role as a fund administration and management center … One of the industries we are growing in reputation is our financial technology and payment sector in international finance services," Murphy said.
"I am here to demonstrate the readiness and capability of our financial services sector to meet the challenge of the year ahead," stated Murphy.  "Last year's Brexit vote requires us to accelerate and intensify market diversification beyond our traditional markets.  The rapid growth in Ireland's trade with China over the last number of years and the 20 plus Irish firms doing business in the region illustrate the potential to attract further investment into Ireland."
Murphy's trip included a round of official engagements with counterparts in the Chinese Ministry of Finance, the People's Bank of China, and the Asian Infrastructure Investment Bank (AIIB).

Sponsored Links by DQ Promote