Accenture (NYSE: ACN) announced on Thursday it has appointed former U.S. Treasury official, Valerie Abend, managing director of Accenture Security – Financial Services, North America. Abend notably brings expertise deploying cyber risk management and mitigation strategies to counter the wide spectrum of threats facing the financial services industry.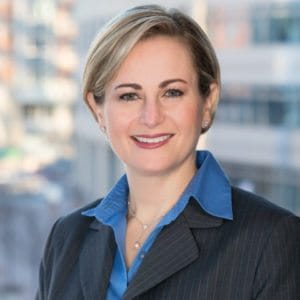 According to Accenture, Abend was Senior Critical Infrastructure Officer at the U.S. Department of Treasury (Office of the Comptroller of the Currency) advising U.S. banking regulatory principals on cybersecurity. Before joining the OCC, she led Bank of New York Mellon's global business partnerships for information risk management as well as the bank's external relationships with government, trade associations and industry groups.
Kelly Bissell, managing director of Accenture Security, stated:
"Valerie has been at the heart of cybersecurity issues affecting the U.S. financial system. Her vision in sector-wide cyber risk management issues will add tremendous value in helping our clients manage security at the intersection of regulation, technology, operations and innovation such as Blockchain and Fintech. As we continue to serve our clients across the globe, Valerie brings tremendous leadership and regulatory experience that will be instrumental in furthering our strategic goals. We are thrilled to welcome her to our growing team."
Abend added:
"Financial institutions are on the front lines defending against sophisticated threat actors targeting the institutions' customers, employees and third parties. I have spent my career helping financial institutions manage these security challenges and mitigate risks so they can focus on innovating to achieve their strategic business objectives. I am excited to join Accenture because it has the global presence and industry know-how needed to solve complex security challenges for clients."
Abend's appointment comes just a few weeks after Accenture announced that 20 startups were selected for its 2017 Fintech Innovative Lab London's 12-week program. The class is considered the largest class in London Lab's five-year history and this year's program reportedly received the greatest number of applicants.