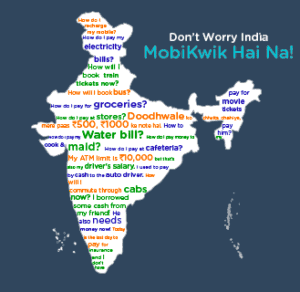 Mobile payments and digital wallet firm MobiKwik is reportedly  in talks to raise funding that would give the startup a $1 billion valuation, forging new ties with banks and offering new financial services on its growing platform, according to multiple news sources. Potential investor parties and sought funding amounts have not yet been disclosed. MobiKwik's current investors include Sequoia Capital, Taiwan's MediaTek, Japan's GMO Venture Partners and hedge fund Tree Line Asia.
The 45 million users strong fintech platform, which has raised about $80 million to date, will likely see a new cash infusion in the next month or two, said founder and chief executive Bipin Preet Singh, declining to comment how large an equity stake the company might be offering to sell.
"We should be touching a billion (dollars) soon … in the next one or two months, " commented Singh regarding MobiKwik's valuation,  "Some of the things that are going to happen over the next two to three months will actually lead to MobiKwik being the default payments partner for a lot of people and they already see us as a natural ally…I see a future where within the app you can avail yourself of many different financial services in addition to making payments. Many of those will be far more profitable compared to payments alone."
Singh indicated the company, which will likely break even in the middle of 2018, was not in a rush to raise funds as it remained well-capitalized.
India's decision to ban high-value currency notes late last year led to a cash crunch that hurt all sectors of the nearly $2 trillion economy, but has boosted the use of digital payments led by e-wallet operators, including MobiKwik and its larger rival Paytm.