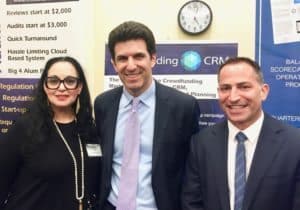 Ruth Hedges, an early advocate of the potential of crowdfunding, has landed Microsoft as its lead sponsor for her annual Global Crowdfunding Convention (GCC).
Hedges commented on the addition of Microsoft to help with the event;
"We are very excited to have Microsoft's sponsorship for the 6th Annual GCC and highly appreciate their support and our collaboration with Fernando Hernando Director of Supplier Diversity at Microsoft to help expand crowdfunding education to more women, minorities, and veterans. Crowdfunding is a crucial funding method for new and established businesses, and a medium that levels the playing field for those who might not have access to, nor the requirements for other forms of financing from traditional channels. We look forward to continuing to work together now and long into the future ."
GCC was one of the very first events to target the emerging crowdfunding industry as the sector has grown and evolved. The 6th conference is scheduled to take place in Las Vegas this coming October.  GCC has combined the various aspects of investment, rewards, and donation crowdfunding ecosystem. Over the years thousands of people from over 25 different countries have attended the conference.
Hedges was a founding member of the Crowdfund Intermediary Regulatory Advocates (CFIRA) and the Crowdfund Professionals Association (CFPA). She is well-known in the crowdfunding space and deeply engaged with the creation of the JOBS Act of 2012 – the law that eventually legalized investment crowdfunding in the US.