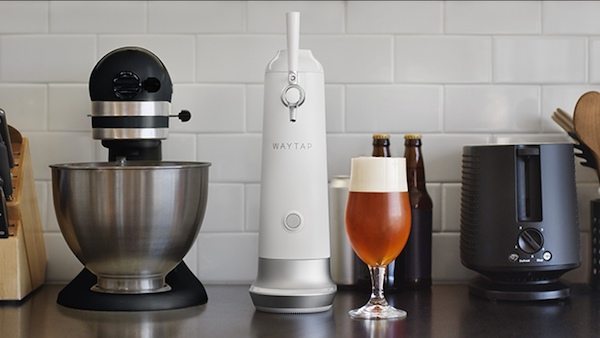 Just a few months after securing $1,086,819 from 7,117 backers through Kickstarter and less than two years after securing $261,808 from 2,078 backers on Indiegogo, Shark Tank alum, Fizzics, has launched an equity crowdfunding campaign on Indiegogo's new platform. 
As previously reported, Fizzics takes science and puts it to practical, and enjoyable, use by making beer bought in the store far better.  The company's universal beer dispenser uses "physics" to improve the taste of beer.  The dispenser delivers a"fresh-from-the-top experience" from any can, bottle, or growler and does not require carbon dioxide cartridges, replacement parts or ongoing consumable refills in order to operate. It was revealed:
"Fizzics controls pressure flow and utilizes sound to create a rich, creamy foam (head) that enhances the appearance, aroma, flavor, and a smooth bodied mouth-feel. Beer in a can, bottle, or barrel contains a lot of dissolved carbon dioxide under pressure. When beer is poured, the pressure is released and the carbon dioxide wants to escape. Fizzics assists in bubble retention to create ideal density foam, which allows the release of esters, a flavor compound naturally created in fermentation. Esters are fruity, flowery, or spicy and assist the nose in detecting different flavors. Fizzics encourages foam and carbonation to create the ideal mouth-feel. Fizzics allows consumers to choose their favorite level of foam head for each beer by adjusting the length of the pour when pulling the tap handle."
The brew dispenser is currently available at Best Buy, Brookstone (was named best-selling holiday item in 2015), Target, Amazon, QVC, Total Wine & More, and Best Buy Canada. It can be used to enhance the flavor of all beer styles of carbonated beer, which includes IPAs, Hefeweizens, Pilsners, Brown Ales, Lagers, Stouts, and Porters. 
Funds from the campaign will be used to launch new products. It is set to close in April.
_______________________________________________
Have a crowdfunding offering you'd like to share? Submit an offering for consideration using our Submit a Tip form and we may share it on our site!