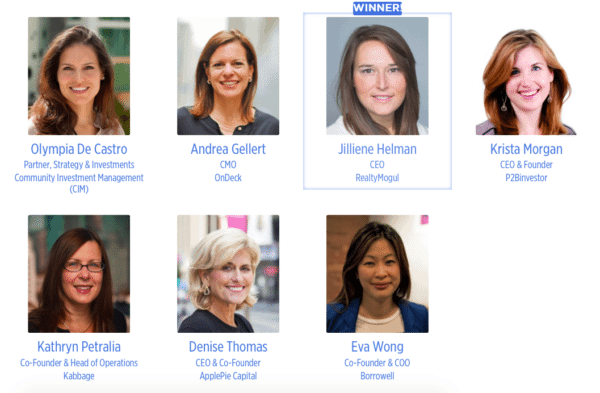 Honored for her "outstanding leadership, integrity, performance, and team-building support within RealtyMogul, as well as her contributions to the advancement of the industry", RealtyMogul.com CEO Jilliene Helman was named Fintech Woman of the Year at the first annual LendIt Industry Awards. The awards, which showcased leaders from across the fintech industry, were part of the annual LendIt USA Conference held in New York City March 6 and 7th. Helman was selected by a panel of 30 industry expert judges from among a field of six leading fintech pioneers including Olympia De Castro, Andrew Gellert, Krista Morgan, Kathryn Petralia, Denise Thomas and Eva Wong.
"It's an honor to be selected for this award from among a group of such accomplished and talented women," stated Helman. "This award is also a tribute to the amazing leadership team at RealtyMogul.com. I look forward to working with them and the industry to continue to grow the online real estate investing category and make new investment opportunities available to more people."
Since founding the company in 2012, Helman has spearheaded RealtyMogul.com's disruption of commercial real estate investing, bringing together real estate and technology veterans to offer experienced and first-time investors a new way to invest in commercial real estate. To date, Helman has led RealtyMogul.com to fund $260M in real estate transactions and returned more than $60M to investors in principal, interest and distributions with no loss of investor capital.
For a closer look at other women leading fintech innovation and disruption, click here.