BlueJay Music, a London-based music streaming service, has recently launched an equity crowdfunding campaign on Invesdor. The company is currently seeking a minimum of £150,000 (max £300,000) as it prepares for expansion.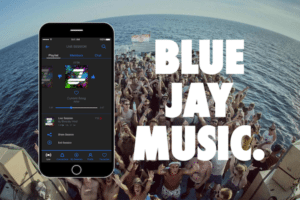 The company claimed it adds a new dimension to online music. Users just simply live stream a playlist of their favorite songs from their mobile device to anyone in a real-time and interactive environment that includes group chat. It was revealed:
"In short, in the current online market there are no truly personalised music apps, there are very limited options for real-time social interaction over music online, and there is clearly a strong desire for both. BlueJay is a human curated music service that can scale to the individual listener, allows listeners to connect and interact socially over music through group instant messaging, and combines both in a smooth, enjoyable, real-time environment. This ability to run an internet radio station from your pocket is new and unique and we have a patent pending on our technology."
During a recent interview with Invesdor, founders Leonard Peter Shore and Samuel Jordan Shore shared more details about BlueJay's services:
"We had both been very interested in the capability of new technologies to fundamentally transform business. We had seen it across many industries and it was clear that the improvements in software development, in moving large quantities of data around and in the ability to process huge amounts of information, would provide many, many opportunities to give things to customers in new ways that they would really enjoy. We were both in San Francisco working on a project with someone we'd known a long time when we became involved in a discussion about music and the lack of an ability to listen to music together, and to have some social engagement.  At first that lead to ideas about crowd sourcing playlists for physical parties. But it soon morphed into an idea, if you like, of a global party where people could crowd source a playlist. The complexities of that and the challenge of licensing in a grey area led us eventually to design more of a radio type service – where you can set up, in principle, an unlimited number of personal radio stations with an unlimited number of listeners – and can listen together and engage socially with each other."
Also speaking about future plans, the founders noted:
"The product is now developed and available on the iOS and Android platforms. We are raising money to accelerate the growth and, of course, there are many product developments in the pipeline – for example, we'd like our users to be able to source their playlists from anywhere not just their song files – and we are working on that. We have a very lean model where most of the key functions are contracted – such as development and marketing – to companies that are very experienced in these areas – and we can ramp the resources up and down depending on what we need. Over time we will probably appoint more full time staff but we are very happy with our current relationships. The CEOs of the technical development and marketing companies have joined our Advisory Board. This Board is extremely strong for a company of our size and provides tremendous advice to the management."
Since its launch, BlueJay's Invesdor campaign has secured more than £100,000. It is set to close on April 28th.
Have a crowdfunding offering you'd like to share? Submit an offering for consideration using our Submit a Tip form and we may share it on our site!