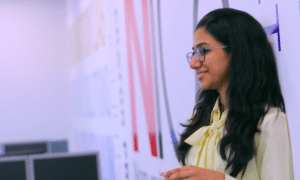 Japanese investment bank Nomura has set up a fintech program in India, inviting entrepreneurs in Mumbai to build new tools for capital markets. The Voyager partnership aims to give Indian fintech specialists access to Nomura's resources at the Mumbai innovation centre, enabling them to test their ideas using the bank's people, processes and technology. PwC, Google, IBM and Amazon Internet Services have joined the effort and will offer expertise to participants.
"New technology, supported by an innovation-driven ecosystem, has resulted in an environment of increasing collaboration between new and traditional market players," Nomura Services India CEO R. K. Rangan. "Building on this momentum, Voyager is a program for start-ups to engage with Nomura to drive innovation through its global network."
As well as gaining access to technology and expertise, startups could benefit from the exposure of working with such a major player, says Nomura, adding its potential interest in investment or becoming a customer of program participants. Nomura's efforts to embrace the fintech community recently saw the firm set up a subsidiary called N-Village, which will focus on new business development and open innovation. The unit will conduct research into new technologies and also partner fintech startups, putting aside 10 billion yen ($92 million) to invest in promising firms.