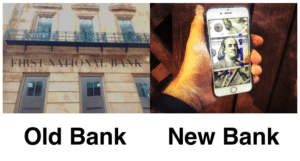 Earlier this week, the Conference on State Bank Supervisors (CSBS) announced their "Vision 2020" initiative. The intent is to provide a solution for emerging Fintech firms and non-bank financial services. Vision 2020 comes after the CSBS sued the Office of the Comptroller of the Currency and their attempt to create a national Fintech Charter (and thus exempt a certain amount of state regulation).
The CSBS Board of Directors said their objective is to make supervision more efficient and modernize the process of regulating Fintech across state borders. These actions supposedly will make it easier for innovative financial firms to establish operations without getting swamped by the cacophony of state regulations – which have a tendency to be different in each state.
"We are committed to a multi-state experience that is as seamless as possible," stated CSBS Chairman and Texas Commissioner of Banking Charles G. Cooper. "Through Vision 2020, state regulators will transform the licensing process, harmonize supervision, engage fintech companies, assist state banking departments, make it easier for banks to provide services to non-banks, and make supervision more efficient for third parties."
The CSBS outlined their initial objectives:
Redesign the Nationwide Multistate Licensing System (NMLS). CSBS has launched a technology effort that redesigns and expands NMLS, the common platform for state non-bank regulation. The redesign will use data and analytics to provide a more automated licensing process for new applicants, streamline multi-state regulation, and shift state resources to higher-risk cases. State regulators also will ensure transparency through NMLS Consumer Access, which was viewed 3.7 million times last year.
Harmonize multi-state supervision. CSBS has created working groups to establish model approaches to key aspects of non-bank supervision. The groups will work to enhance uniformity in examinations, facilitate best practices, and capture and report non-bank violations at the national level. To further streamline the process, CSBS will create a common technology platform for state examinations.
Form an industry advisory panel. CSBS will establish a fintech industry advisory panel to identify points of friction in licensing and multi-state regulation, and provide feedback to state efforts to modernize regulatory regimes. The panel will focus on lending and money transmission, and discuss a wide range of solutions. Individual state regulators already have been engaging the fintech industry in formal dialogue.
Assist state banking departments. CSBS education programs will make state departments more effective in supervising banks and non-banks. Updated standards and analytics will help states determine where new expertise is most needed, identify and address weaknesses, update supervisory processes, and compare themselves to and learn from other state departments. These higher standards will be validated through an enhanced CSBS accreditation program.
Make it easier for banks to provide services to non-banks. CSBS is stepping up efforts to address de-risking – where banks are cautious about doing business with non-banks, due to regulatory uncertainty – by increasing industry awareness that strong regulatory regimes exist for compliance with laws for money laundering, the Bank Secrecy Act, and cybersecurity.
Make supervision more efficient for third parties. Banks of all sizes work with a variety of third-party service providers, including fintech companies. CSBS supports federal legislation that would allow state and federal regulators to better coordinate supervision of bank third-party service providers.
If you can't beat em …
All regulators, be they state based or federal, should want to remove as much red tape as possible. Creating a multitude of rules and regulations typically creates a moat around established financial firms thus making it harder for smaller firms to challenge incumbents. While a level of regulation is absolutely necessary the current labyrinth of rules is nonsensical and can squeeze the life out of competition. It is this same competition that benefits consumers (and businesses) by lowering costs and providing better services.

The CSBS says that the initiatives above will help advance the vision for a more streamlined state regulatory system that supports business innovation, local and national economic growth while maintaining essential protections for consumers and business who are, of course, taxpayers that foot the bill.

At a minimum, the OCC jamming their stick in a hornets nest of regulatory turf has pushed old school regulators to wake up to the digitization of finance. Let's see if Vision 2020 can generate any near term concrete results.

Sponsored Links by DQ Promote