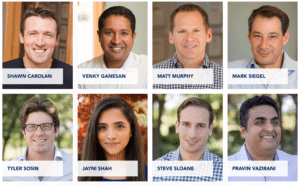 Menlo Ventures announced the closing of Menlo Ventures XIV last week, a $450 million fund dedicated to investing primarily in early-stage consumer, enterprise and "frontier technologies". The funding brings the firm's total capital to more than $5 billion under management. Menlo management said their current areas of interest are online marketplaces, financial technology (Fintech), vertical SaaS applications, IT Security and cloud infrastructure.
The VC firm said that Menlo XIV will invest roughly half in consumer technology and half in enterprise infrastructure, and like previous funds, there will still be a 5% allocation to seed deals. The fund was said to be oversubscribed by existing investors.
There will also be a significant allocation to emerging new growth areas – computational biology, artificial intelligence, and robotics and autonomy.
"Menlo's emphasis on early-stage investing in our main funds is a strategy that's working," said managing director Mark Siegel. "Our focus is on deep, analytical research in fast-moving core areas like Marketplaces, Cloud Infrastructure, SaaS, Fintech and Cybersecurity. We are also digging into new frontier areas that will create massive technological shifts such as artificial intelligence, computational biology, robotics and drone technology."
The Menlo Fund closed at a time when the VC industry is "flush with capita" and there are concerns about a VC bubble. Menlo said they share this concern and deliberately avoided growing the Fund larger. They also said that VC funds below $500 million are 5X more likely to deliver 3X net returns which is the Fund's objective.
Menlo has invested in some prominent Fintech names like Bettermint and RealtyShares. They have also invested in companies like Uber and Warby Parker.