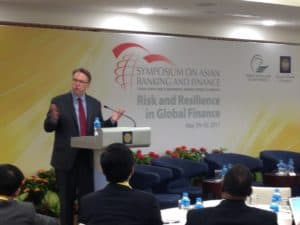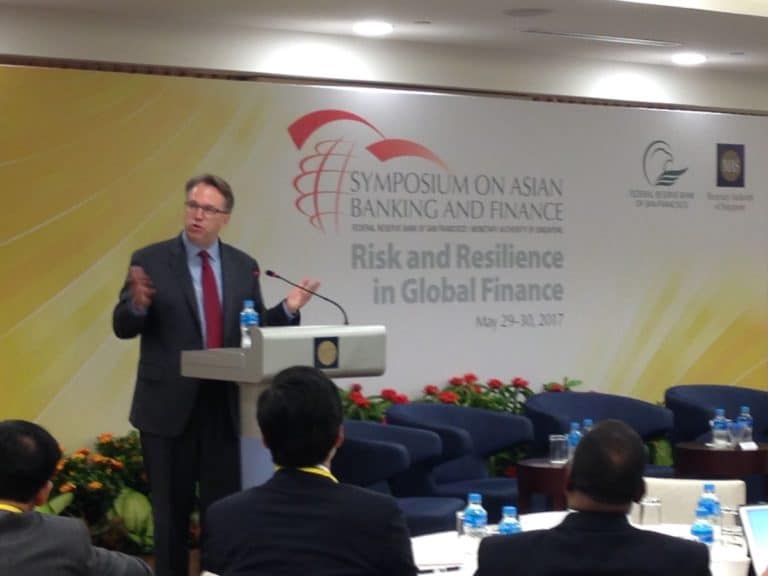 In a speech delivered to the Symposium on Asian Banking and Finance, co-hosted by the Monetary Authority of Singapore and the US Federal Reserve Bank of California, Ravi Menon, Managing Director of MAS, spoke about Asian banking and addressed the potential of Fintech to help the underbanked – both individuals and business. While John Williams, President of the San Francisco Fed, spoke about the normalization of the Fed's balance sheet (while acknowledging Singapore's Fintech prominence), Menon looked further into the future.
Menon stated;
"Using innovative Fintech solutions, they [Asian banks] can mobilise untapped savings and provide access to credit for under-banked individuals and businesses."
Using technology to broaden the portfolio of financial services to a far wider audience is part of the mission of MAS. Menon said the road to financial inclusion is "neither short nor easy, but it is an important one."
We're at the Symposium on #Asian #Banking & #Finance, hosted in partnership w/@mas_sg. Opening remarks by MAS Managing Director, Ravi Menon. pic.twitter.com/DkGhMFSzgT

— San Francisco Fed (@sffed) May 29, 2017
Menon highlighted the fertile environment for Fintech innovation to grow across Asia:
 In Indonesia and Vietnam, only around a third of the population is formally banked. Yet, their mobile phone penetration rates are above 100% – that's more than one phone per person on average
Coupled with a young and tech-savvy population, what we have is a ripe environment for mobile banking.
We are seeing interesting innovations across Asia, bringing banking services to the broader population. In Indonesia, the Financial Services Authority (OJK) runs a branchless banking programme with participant banks. Called Laku Pandai, or "smart man", the programme offers banking and financial services to the under-banked, supported by mobile phones and IT facilities
DBS Bank is collaborating with peer-to-peer (p2p) lending platforms to cross-refer clients. DBS will refer to the p2p lenders some of the smaller businesses that it is unable to lend to. In return, the p2p lenders will refer borrowers who have completed two successful rounds of fund raising to DBS for larger commercial loans and other financial solutions such as cash management.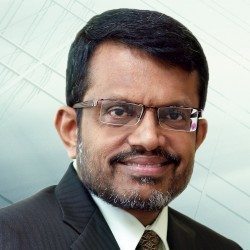 Broadening financial services is quite an opportunity for both traditional financial firms and emerging Fintech startups. Menon referenced a study that estimated that using Fintech to enhance financial inclusion would boost GDP by between 9-14% in large Asian economies like Indonesia and the Philippines, and up to as much as 32% in Cambodia. That is pretty significant.

Sponsored Links by DQ Promote