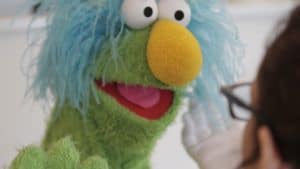 Miss Piggy, Grover, Kermit and their Muppet pals will come to life again thanks to over 1,811 Kickstarter backers supporting the Museum of the Moving Image Jim Henson Exhibition.  With nine days remaining on its campaign, more than $127,915 has been raised toward an exhibition that explores the famous Muppet creator. Rainbow connections officially made possible.
"Over the weekend, we were thrilled to see our $125,000 stretch goal being surpassed! Our campaign still has 9 days to go, and there are some exciting rewards available for backers, including character photographs personalized and signed by Karen Prell and lunch for two with Bonnie Erickson, the original designer of Miss Piggy!" celebrated the campaign. "Any additional funds raised will continue to support the production of the permanent yet dynamic exhibition, and the restoration of the puppets in the Museum's Jim Henson collection. This campaign is as much a success for the Museum as it is for the international community of Henson fans; we are so thankful for your support and cannot wait to share The Jim Henson Exhibition with you!"
Funding will make "Perform a Puppet on Screen,"a exhibit that gives visitors an opportunity to experience first-hand what it is like to watch themselves perform a puppet on a television monitor, and the "Design an Anything Muppet Character" experience, during which a film and interactive feature will enable visitors to select facial features and accessories for an "Anything Muppet" form, and see what their character looks like on screen, possible.
The NYC Museum's Jim Henson collection, which includes puppets from all of Jim's work for film and television, will be restored thanks to Kickstarter backers:
Kermit the Frog, Miss Piggy, Scooter, Dr. Bunsen Honeydew, Rowlf, Beaker, Gonzo, Zoot, the Swedish Chef, the Koozebanians, and Camilla from The Muppet Show;
Big Bird, Elmo, Count von Count, Grover, Cookie Monster, Prairie Dawn, Ernie and Bert from Sesame Street;
Junior Gorg, Doozers, and all the Fraggles from Fraggle Rock;
Jen, Kira, Aughra, Pod people and a Skeksis and Mystic from The Dark Crystal;
Rare puppets from Jim's television commercials and other early work in the 1950s and 1960s, including Yorick from Sam and Friends, the LaChoy Dragon, Wilkins and Wontkins, Sir Linit, Taminella Grinderfall, the "Java" puppets, and the Tastee Freeze Boss;
Puppets from Emmet Otter's Jugband Christmas, The Muppet Musicians of Bremen, Faffner Hall.
The exhibition will feature more than 40 original puppets — including Kermit the Frog, Miss Piggy, Elmo, Cookie Monster, the Fraggles, and a Skeksis from The Dark Crystal — as well as puppet prototypes, original character sketches, rare behind-the-scenes footage and photographs, and interactive puppetry design and performance experiences. In addition, the exhibit will spotlight Henson's early work for television and film in the 1950s and 60s such as Sesame Street, The Muppet Show, Muppet feature films and Fraggle Rock, The Dark Crystal and Labyrinth.
Have a crowdfunding offering you'd like to share? Submit an offering for consideration using our Submit a Tip form and we may share it on our site!