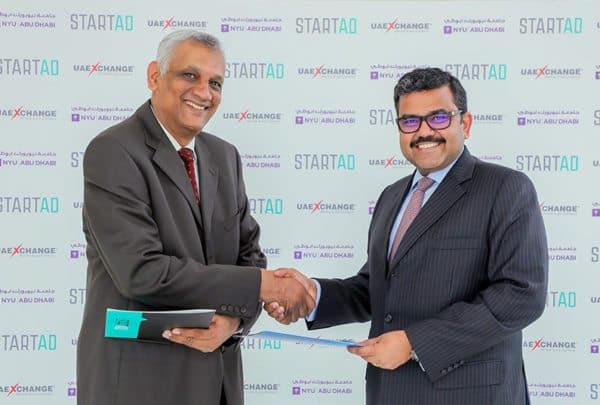 New York University Abu Dhabi and the United Arab Emirates Exchange signed a Memorandum of Understanding in the attempt to promote both the advancement of innovation of financial technologies. The two have agreed to accomplish this through the innovation and entrepreneurship platform, startAD.
startAD is based at NYU Abu Dhabi and expedites the early development stages of startups by providing them with the instruments that they need to produce a scalable and efficient company. Their aim is to use company partnerships to nurture new and exciting startups in the Middle East. Qualifies startups will be able to talk with industry leaders in the UAE through its "Corporate Mentorship" program.
The CEO of the UAE Exchange, Promoth Manghat, commented on the partnership:
"As a home-grown brand we are committed to the growth of digital innovation and entrepreneurship in the UAE. Our tie-up with NYUAD for the startAD initiative reaffirms this commitment. We see startAD as a platform that will foster a culture of innovation in the UAE and help attract phenomenal talent."
Peter Christensen, the NYUAD Associate Vice Chancellor of Finance and Operations, said:
"NYU Abu Dhabi is committed to contributing to the growth of Abu Dhabi beyond traditional higher education. The collaboration between the leading global remittance brand UAE Exchange and startAD will empower the best technology-driven startups to scale and create significant impact for Abu Dhabi and the UAE."
UAE Exchange will serve as a mentor for Fintech companies and work with NYUAD to provide startups with the market knowledge and domain expertise that they need in order to test their solutions. NYUAD will give startups both early growth support and entrepreneurial expertise. UAE Exchange will provide tech-driven companies with support to scale globally.
The NYUAD Vice Provost for Entrepreneurship and Innovation and Managing Director of starAD, Ramesh Jagannathan said:
"We are excited to partner with a local leader like UAE Exchange to accelerate innovation in the Fintech industry. We invite Fintech startups to apply to the startAD programmes and take advantage of the compelling opportunity to be mentored by one of the largest global remittances, foreign exchange and payment solutions leaders in the world."
This new partnership provides startups in the region with the resources that they need to test and grow their product. How will it disruptive the current financial market?

Sponsored Links by DQ Promote