On Wednesday, Barclays, alongside its partner TechStars, announced it signed eight fintech startups following their 13-week Rise London accelerator run. This was revealed during the program's demo day, which was held at the new Rise London office. The eight fintech startups are Nivo, Simudyne, Barac, Flux, and Alyne.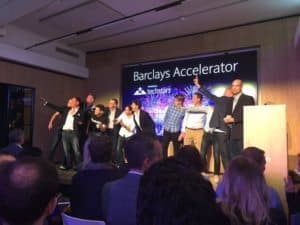 Each of the accelerator graduates pitched to 250 investors, technologists, and bankers during Demo Day. Michael Harte, Barclays Group head of innovation, stated:
"Financial services is experiencing a period of major technological disruption. Rise, and specifically our Accelerator, has created a platform for experimentation, with new generation businesses and entrepreneurs, to build new products, services and platforms."
Chris Adelsbach, Managing Director of Techstars added:
"The Barclays Accelerator, powered by Techstars, once again showed why our programme in London is the preeminent FinTech accelerator in the world.  This class will now join 1,024 other companies in the Techstars Accelerator portfolio that together have a market cap of $8 billion.  Techstars' worldwide network helps entrepreneurs succeed.   Our network of 14,000 founders, mentors, investors, and corporate partners now spans 168 countries.  No matter the stage these entrepreneurs are at, Techstars helps them 'Do More Faster'.   FinTech is an exciting vertical for us.  These companies are using technology to solve large real world problems that impact so many of us.  I'm excited by their prospects and look forward to supporting them on their journey."
Barclays also reported that applications are now open for the next accelerator event in New York and the Tel Aviv program is currently underway.