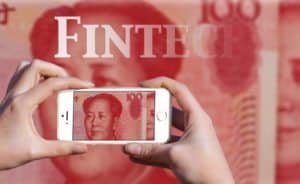 Last week, KPMG held a press conference in Beijing to announce the selection and ranking of the top 50 Fintech companies in China for 2017. China is the largest Fintech market in the world led by conglomerates like Alibabay (Alipay, Ant Financial etc.), Tencent and more. The peer to peer lending market (or marketplace lending) dwarfs every other market including the US. China is already home to four Fintech unicorns and investment into Fintech topped $8 billion last year alone.
At the presser, Arthur Wang, the Head of Fintech Industry, KPMG China, stated;
"The ranking of China's 50 leading fintech companies in 2016 aroused great attention both in China and overseas. During this year's ranking, specialists will consider each related dimension of the companies based on the selection criteria and process, and determine the final top 50 fintech companies through research, analysis and discussion."
KPMG benefits from the emerging sector of finance too as they look  to work with these companies in managing the shift to internet finance. In 2015, KPMG launched the Innovative Startup Centre in Zhongguangcun to help solidify their position.
If you are curious about last years Fintech 50, according to KPMG, the list is below. It will be interesting to see who is on the list this year and perhaps who has left it.
China Fintech 50 companies from 2016
*Companies are arranged in alphabetical order based on the first letter of their Chinese name in pinyin.
Anxindeli
Baidu Finance
BAIFENDIAN
100credit
ICE KREDIT
TENPAY.COM
Dianrong.com
RQuest
FUTUNN.COM
ChinaPnR
PING ++
3GOLDEN
JFZ.COM
JD Finance
Juxinli
QUARK FINANCE
99Bill
Tigerbrokers
QuantGroup
LENGJING INFO
LU.com
Ideacome
MSXF
Ant Financial
PINTEC
QFPAY
Qudian
UCREDIT
Rong360
Wecash
ChinaScope
BBD
Souyidai
Suanhua Credit
Feidee
Taiyiyun
TalkingData
Tcredit
Beagle Data
Tong Dun
Wacai
Wei Zhong Shui Yin
WeBank
WeLab
u51.com
Onchain
Hcspark.com
Zipeiyi
Zhongan Insurance
Zuihuibao
Sponsored Links by DQ Promote