A report from Bloomberg this week takes certain online lending platforms to task regarding the fact that some online lenders are not verifying income status.  The report also says that even if there are errors in loan applications the loan may still be approved. More specifically, apparently Prosper does not verify income and employment in about a quarter of the loans. Lending Club is said to verify income in about one third of the loans.
Prosper spokesperson Sarah Cain, defends her company;
"[Prosper has] developed some of the industry's leading risk-mitigation controls to find and prevent fraud. For 100 percent of its loans, the company verifies borrowers' identities and the existence of their U.S. bank accounts."
Prosper recently surpassed $9 billion in loans through its platform, with Q1 loan originations up 29% when compared to the fourth quarter of 2016.
Risk is always part of the investment equation and Orchard Platform perhaps provides the best perspective into affiliated risk of investing in loans originated online.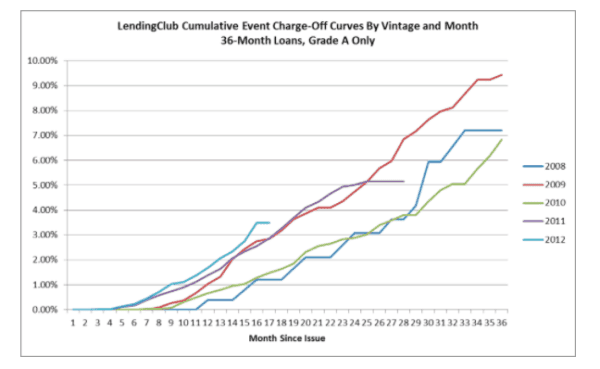 An early example from Orchard platform provides insight into this risk using Lending Club loans as an example:
"The first observation we can make by comparing the scale in both graphs is that "Grade A" loans charge off at a much lower rate than the portfolio at large.  The next observation is that an "A" from one vintage is not necessarily an "A" from another vintage. For instance, by the 15th month post-booking, 2.76% of 2012 A-grades charged off, whereas the figure is just 1.04% for the equivalent population from 2010.  This illustrates how predictions of future credit risk can be volatile over time. The loans might have looked the same at the time of issuance, but they performed differently, perhaps due to broader economic circumstances, shifts in the "mix" of loan applicants, or variables not accounted for in LendingClub's model."
More recent data indicates that 2014 and 2015 vintages are charging off at a higher rate. So what has changed? Well, lots of things. As Orchard explains;
"Whenever you're looking at aggregated numbers, you need to look a little deeper. "What's actually driving what I'm seeing?" The answer could be that it's an increase in borrower charge-off rates, but it could also be that the current groups of borrowers included in the aggregate are not the same as the groups that were included years before."
Orchard says that "volatility is a fact of life", the reality is that situations change during the term of a loan. These changes can be hard to predict. Obviously diversification is key for any investor to manage this risk.
So is the fact that Prosper and Lending Club are not always verifying income indicative of greater risk? Perhaps. But as the Bloomberg reporter points out, credit card holders do not typically provide employment status on an ongoing basis. At the same time, credit cards tend to charge higher rates than some online lenders like Prosper and Lending Club.  Both of these online lenders have targeted credit card debt as a prime opportunity to drive their business.
While income and employment are clearly important factors in evaluating credit risk the one of the most important variables for any borrower or investor in online loans is character. Some people will pay back their debts regardless of their employment status. Others, not so much. Some Fintech firms, including online lenders, are using different data points to assess borrower risk. Borrowers who repeatedly use an online lender and have established a history of paying back the loans, regardless of employment status, are probably a pretty good bet. In the end it comes down to the overall credit model and whether or not risk is being assessed, and priced correctly. Not just a single data point.