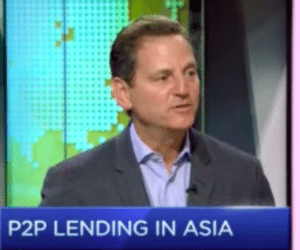 Ron Suber, perhaps the most prominent global Fintech Ambassador and President Emeritus of Prosper Marketplace, is on an extended swing across Asia visiting various platforms and presenting at events. Visiting with CNBC Asia this week, Suber explained how important transparency is for online lending and how both sides win: investor and borrower.
Suber explained; "There is nothing shadow about it," referring to online lending.
There have been many times in the past where traditional finance refers to new forms of finance as shadow banking. In fact most industry followers would concur that the term shadow banking is more aptly applied to old school finance and daylight banking is the more appropriate term when describing online lending.
Asked about pushback from regulators? Suber stated;
"We are really working with regulators all around the world. In the US, in Europe, the Middle East and here in Asia. We have met with the politicians and the academics, and really everybody, to make certain they understand how different this is, how transparent this is, and how everybody wins … what we are trying to do is to help them [regulators] understand…"
You can watch the Video below.
Online lending has made borrowing more transparent and open as the process shares plenty of data, says Ron Suber of Prosper Marketplace.
Sponsored Links by DQ Promote