Deloitte has recently released a report concerned with how finance will look in the years to come, titled "Crunch time – Future of Finance in a Digital World: An Indian Perspective." In this report, Deloitte takes into account how rapidly digital adoption has improved within finance and predicts how it will impact the industry.
Deloitte starts off be making six predictions for the future of finance. They believe:
The Finance processes of the future will be run as utilities – automated and inter connected through a global data exchange.
Predictive and prescriptive analytics will be a mainstream expectation from Finance – sourced from structured and unstructured data (Big data).
Social outcomes of business will feature prominently in the finance reporting requirements. Models to measure and report will evolve in their maturity and acceptance.
Information will become ubiquitous and available in real time and the role of Finance at most will be to ensure that the right information is made available to the right stakeholders in the right format. Cyber security will form an indispensable part of finance leader's arsenal.
Finance talent of the future will be made up of individuals belonging to Generation Y and Generation Z with diverse expectations around work and value systems. Millennials and centennials will invade into the world of finance leadership with very high levels of digital dexterity and analytical mind set.
Technology will be all pervasive and eight core exponential technologies will form the core of digital finance. Digital will not just be a platform or an ecosystem, but more like the underlying ethos to define the way Finance will function.
These predictions see the digital world taking an ever increasing role in financial operations, with information analytics the driving force of decision making. However, the current CFO's of the world are currently under-equipped to deal with the amount and complexity of information they are receiving. Their life boats barely keep them afloat in the sea of data.
In their report, Deloitte states:
"Finance is struggling to evolve the set of standard algorithms and data models that would underpin the business needs first and offer dynamism to the changing business scenarios."
The continual adoption of technology will come to the CFO's aid, with new analytic frameworks capable of utilizing both structured and unstructured data.
As noted in their last finance prediction, Deloitte also pointed out eight core exponential technologies destined to define the future world of finance: Visualization, In-Memory Computing, Blockchain, Robotics Process Automation (RPA), Internet of Things (IoT), Cognitive Computing, Advanced Analytics, and Mobility.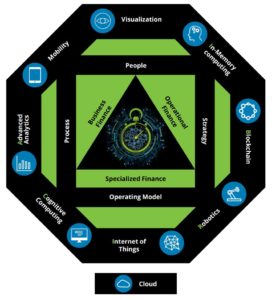 In order to portray the relationship between all of these exponential technologies, Deloitte created "The Octagon of Exponentials," pictured here. This diagram emphasizes that the technologies are not separate pieces, but part of a continuum. Only when all of the technologies come together will the financial industry be able to realize their potential.
Deloitte presents this continuum of technologies to CFO's as a once in a lifetime opportunity. If they do no take full advantage of them now, they risk the possibility of a digitally disrupted future.
The report closes with a section about the bridging of acuity and acumen through smart technologies. They define "acuity" as the necessity for Finance Leaders so exemplify a high level of intelligence and insight based on information. "Acumen" then refers to the ever changing backgrounds of people in finance (i.e. Accountant to Data Scientist).
Deloitte ends their report by saying:
"At the end, it will be a case of Darwinism where the fittest will survive and the process of natural selection will weed out the digital dinosaurs. The time is here and the time is now. To act, to change, to disrupt and to 'be exponential'!"
[scribd id=354388974 key=key-ZynBZ8pQ7vnoduIhaFJx mode=scroll]