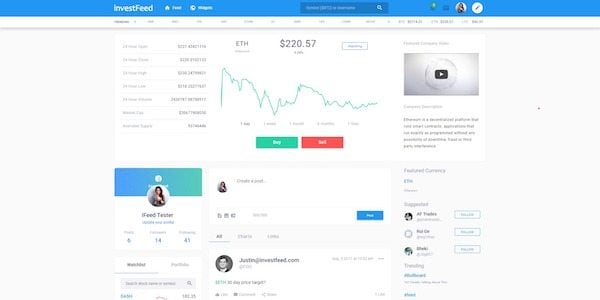 investFeed, a community-powered stock trading network, announced on Friday it is rolling out the first version of its cryptocurrency-based social investment platform. The roll out of investFeed's social investment platform comes just a couple weeks after the company launched its Token Generation Event (TGE), which is still live until August 7th and has surpassed 10,000 ETH committed.
According to the network, the beta was initially scheduled to be released within 90 days of its TGE closing. It was fast-tracked to give participants and potential users to opportunity to see the "unique" cryptocurrency-based marketplace, along with live tickers and weighted average price charts.  CEO of investFeed, Ron Chernesky said:
"Our development team has been working around the clock to roll out the first version of the platform and it looks beautiful; it's like Facebook, cryptocurrency and the Bloomberg Terminal met for the very first time. One of our goals was to give mainstream users a simple, aesthetically pleasing UX and remove the technical barriers and complicated language associated with blockchain and cryptocurrency."
investFeed also noted that its new platform, thanks to a newly formed data partnership with Bravenewcoin (BNC), currently showcases a list of 235 high-performing, highly liquid cryptocurrencies and their associated price tickers, channels, pairings and weighted averages in U.S. dollars. The network also noted that users can now start messaging each other, post comments and share cryptocurrency market insights, and soon access buy and sell functionality directly within the platform. BNC's CEO Fran Strajnar shared:
"We're always excited to see top tier teams build fantastic products and look forward to supplying further value add data and analytics as investFeed's users demand grows."
Chernesky then added:
"Just like we linked every top online stock trading brokerage to our original platform, we will begin to form relationships with digital asset exchanges so that users can link their accounts on investFeed and make informed decisions, using the most accurate market data possible. The end-goal is to become the one-stop shop for everything cryptocurrency, and unite a growing community in one of the most nascent industries of our generation."
More features will notably be unlocked and added to the new platform. This will include instant notifications on user-assigned price alerts, as well as alerts on moves made by peers and high performing investors.