Earlier this week, Abu Dhabi Global Markets (ADGM) announced it has joined forces with foreign exchange and remittance company UAE Exchange to support, develop and promote the fintech ecosystem in Abu Dhabi and the United Arab Emirates. The Memorandum of Understanding was notably signed by Promoth Manghat, CEO of UAE Exchange Group, and Richard Teng, CEO of the Financial Services Regulatory Authority (FSRA) of ADGM.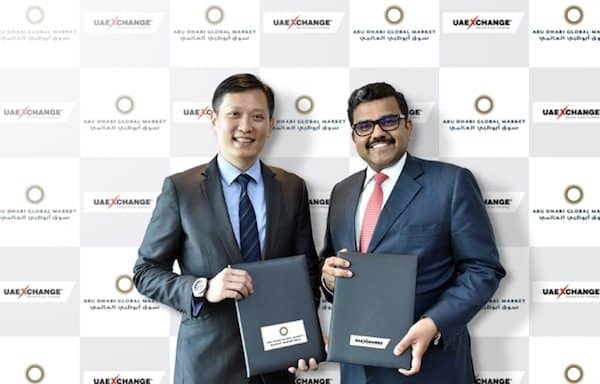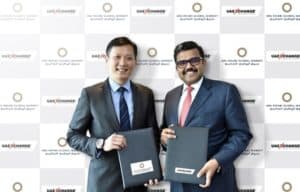 According to ADGM, the new partnership will see UAE Exchange collaborate with FinTech participants under ADGM's Regulatory Laboratory (RegLab) to develop and deploy promising FinTech solutions in the remittance, foreign exchange, and payments space.
"ADGM RegLab allows FinTech entrepreneurs to test their solutions in a safe controlled environment without facing an undue regulatory burden at the onset, and progressively better their understanding of regulatory know-how and controls as they scale their business. ADGM will work closely with UAE Exchange to identify industry challenges which innovative FinTech solutions may be able to address and deliver an overall enhanced customer experience."
Through this collaboration, UAE Exchange and ADGM will also participate in joint innovation programs for the deployment of new offerings in areas such as emerging payments, blockchain and distributed ledgers, artificial intelligence, and P2P solutions, among others.
Promoth Manghat, CEO of UAE Exchange Group, stated:
"Collaboration between established financial services providers and FinTech start-ups is necessary to build a sustainable innovation ecosystem. Our partnership with ADGM will nurture local FinTech innovation through incubator, accelerator and academic programmes. UAE Exchange is pleased to share its industry expertise, understanding of global markets and customer preferences, and its robust appreciation of the commercial and regulatory landscape with the start-up community in the UAE. Such partnerships will add greater depth to the financial services industry, creating additional value for customers through digitally delivered services."
Richard Teng, CEO, FSRA of ADGM added:
"We are pleased to partner with home-grown industry leaders such as UAE Exchange to build up the FinTech offerings and infrastructure in Abu Dhabi and the UAE. This strategic partnership dovetails well with ADGM's vision to establish a vibrant and well-functioning FinTech ecosystem that bolsters innovation, facilitates investment flows and supports greater growth of financial services activities. In addition to delivering solutions that would benefit the financial services sector, the collaboration with UAE Exchange will create a feedback loop for ADGM as a financial services regulator to fine-tune and enhance its rules and regulatory approach to financial innovation. ADGM will continue to actively engage FinTech stakeholders and forge partnerships with them to bolster the FinTech ecosystem in Abu Dhabi and the UAE."
Sponsored Links by DQ Promote